Hug Me For 5 Seconds Exactly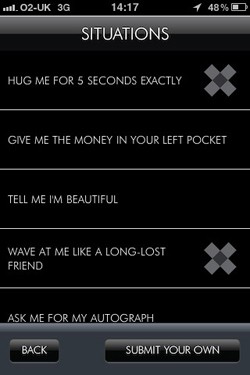 A group of international revolutionaries that existed from 1957 until 1972, Situationist International's members "sought to transform everyday life and the world through experimental forms of behavior." That from
Benrik in an FAQ
about the brand's newest app for the iPhone,
Situationist
. Inspired by the group, which had a significant impact on the May 1968 protests in France in which millions of workers went on strike against modern consumer society, developer
Turned On Digital
built the app to make "your everyday life more thrilling and unpredictable."
Released on Monday, March 7, Situationist "is the radical new app that sparks chance encounters between its members," according to the app's official page on iTunes. Whether or not it's radical is up for debate, but it's definitely simple and easy to use. If you want to participate, download the free app, upload a photo of yourself and start selecting different situations that you would be comfortable in. (They range from "Hug me for 5 seconds exactly" to "Compliment me on my haircut.") Thanks to geo-tagging capabilities, Situationist pairs users automatically when they are close enough to one another and sends a notification with the task for one of the users to perform the situation, Mia Bennett, the CEO of Turned On Digital, told me.
Switched's Leila Brillson worries that the app will lead to creepy encounters. "Call me a jaded, anti-social New Yorker, but I spend an awful lot of my time avoiding situations with complete strangers," she writes in her review. Turned On Digital has an answer to that. Situationist is moderated, Benrik explains in the FAQ. New users can suggest situations to be added to the app, but they're all vetted before going live. And "[p]hotos are moderated to exclude Chatroulette-style exhibitionism." Bennett added: "As all the tasks are moderated, and users can only select from a pre-defined list, it is almost impossible to abuse the app."
Those safety measures have won over at least one person, admittedly not a jaded, anti-social New Yorker. "Can't wait for my first encounter," Vincent F. Mease wrote in a five-star review of the app. "Let's go Chicagoans! Install this thing so we can rally up and storm the TV station!" It's time to warm up the Windy City.
Via Aol's Switched.