How a Grape Soda Powered the First Transcontinental Aeroplane Trip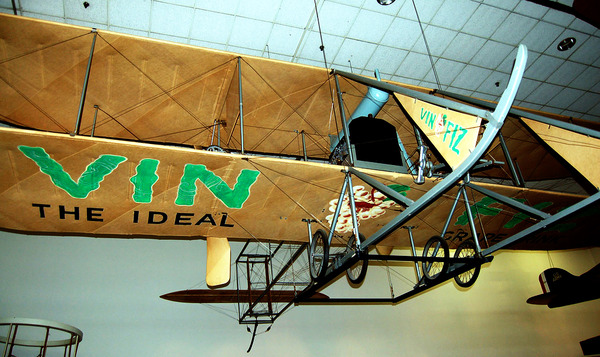 Advertising pervades our culture. Every other day you turn around to the Orange Bowl becoming the FedEx Orange Bowl or as announced yesterday, Seattle's Qwest Field will be renamed CenturyLink Field. Wasn't there a pure time when one could pursue the highest pursuits free of commercial motivations?
Well, no. At least not in the last hundred years. All you need to do is walk into the Museum of Air and Space here in Washington, D.C., for a stark reminder that things weren't as different back then as we might have hoped. Among the sublime rockets and planes that conquered the firmament, there's a Wright Brothers-styled biplane and underneath it are written the immortal words:
VIN FIZ
The Ideal Grape Soda
It turns out that the plane was the first to make a trip across North America, all made possible by a temperance movement-promoted grape beverage.
Here's the story.
The year is 1911 and human beings are beginning to master the art of powered flight. The Wright Brothers have begun to build and sell aeroplanes based on their Wright Flyer. Still, no one had ever made it across the country. "There were no airports, no weather reports, and no instruments except for a string in the open air in front of the pilot," to indicate climbing or descent, an aviation historian recalled.
Into this era of aerial exploration, a daredevil named Calbraith Perry Rodgers decided that he'd try to cross the country in a Wright Brothers-built plane. In doing so, he thought he'd claim a $50,000 prize put up by William Randolph Hearst "for the first flight across the United States in less than 30 days." His machine's top speed was 55 miles per hour and he would have expected to crash regularly. Still, Rodgers was bent on being the first to cross the country by air.
But first he realized he needed a sponsor. Rodgers went to J. Ogden Armour, a leading meatpacker and offered to turn his plane into a flying billboard.
Rodgers printed Vin Fiz on the rudder and under-wing areas of the plane, and Armour paid him three to five dollars for each mile flown, providing a total of $23,000. Armour also provided and outfitted a three-car support train, which would prove vital to Rodgers' success. This train was loaded with a crew, including his wife, his mother, a close friend, two mechanics, and two assistants as well as supplies, fuel, repair parts to rebuild the plane, and even spare engines. One car had a much-needed repair shop, and the crew had the capability to rebuild the aircraft at least twice if necessary. All cars advertised the sponsor's product--Vin Fiz.
The trip was the product launch for Vin Fiz, which was one of many new "soft drinks" put out in response to the growing temperance movement. "The soda fountain has become quite an important factor in the temperance question," an industry magazine noted. "There is no doubt, whatever, that the increasing popularity of this business and the number of drinks brought out to tickle the palate of the thirsty man have made serious inroads in the business of the saloon."
With all that competition, and the sneaking suspicion that Vin Fiz might taste like a cross between "river water (sludge) and horse slop," Armour knew he had to advertise big, and the ad industry celebrated his innovative tactics.
For a new era of flight, a new adventure in advertising!
"The fertile brain of the American advertiser is prolific in imaginative ideas that would do credit to the fantasy of Jules Verne or Edgar Allan Poe," Business magazine wrote. "The former, narrator of imaginary trips to the moon and tours of the world in eighty days (slow travel we should call it in our century), would have surely taken delight in the audacious feat of sending a flying billboard across the continent of North America...."
With his cash in hand, Rodgers set off on his flight from the Atlantic to the Pacific. There were dozens of planned stops, he crashed 16 times and it took him 49 days, but he made it to Pasadena, California, eventually. The trip earned him an entry in the record books, but he didn't live long to enjoy his fame. Five months later, while flying near Long Beach, he ran into a flock of birds and crashed into the ocean. He died on April 3, 1912.
The Vin Fiz Co. continued on for years afterward, opening "grape juice factories" in Westfield, New York, and Mattowan, Michigan. The company branched out into crushed fruit, too. But it appears the business petered out. A few years ago, some old aviation enthusiasts in New Hampshire brought out a new grape soda under the name Vin Fiz, but it appears they're willing to sell the trademark, if you're looking to distribute a "historically refreshing" beverage.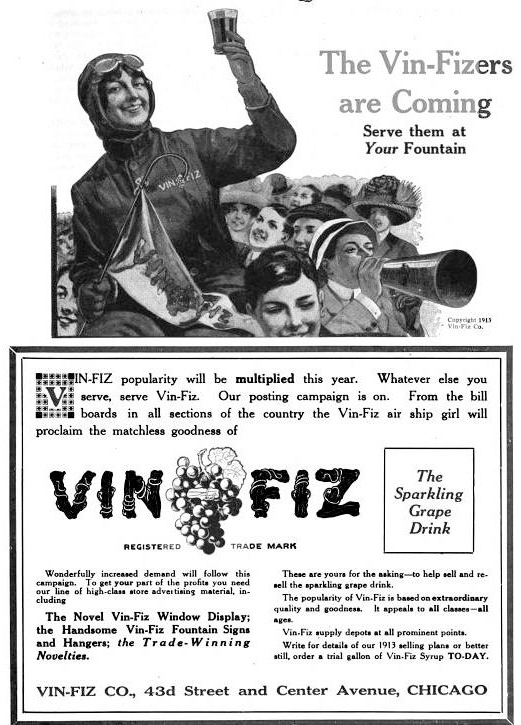 Image: photobunny/Flickr.