Corporations Try to Ride the Sheen Machine on Twitter
Yesterday, the Red Cross adopted Charlie Sheen's bizarre contention-turned-meme that he has "tiger blood" in a call for blood donors. "We may not collect #tigerblood," the organization posted to its Twitter feed, "but we know our donors & volunteers have fierce passion for doing good! #RedCrossMonth." Fair enough, we thought, non-profits have to do what they can to stay in the public's mind.
But then we saw this tweet from McDonald's:
"Despite all the rumors there r no plans 2 bring #mclobster or mcsushi 2 the US menu. We r working on a new menu item called McWinning."
Winning, if you haven't been following Sheen's linguistic innovations, is his all-purpose catchphrase to denote his awesomeness. It's one of several that companies want to cash in on. Now, Ford has purchased a promoted tweet for the Ford Focus at the top of the #Winning hashtag on Twitter, as you can see below.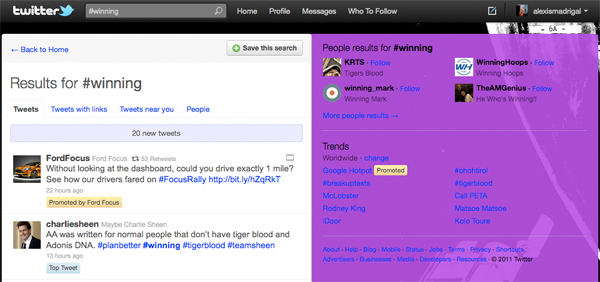 Poster Revolution, a poster retailer, has purchased #TigerBlood and #PlanBetter, Sheen's lamest and most The Secret-sounding invention. They're selling a particularly depressing poster with their promoted tweet. It features a Charlie Sheen face in the style of the famed Barack Obama campaign poster with the word "WINNING" written across the bottom.
This is all depressing.
Update 5:10pm: I think Ford (and future hashtag buyers) should be singled out a little bit here for some extra scorn. Here's why: in purchasing the #Winning hashtag, they get all of the benefits of celebrity endorsement (eyeballs, psychological association) without the risk that when the guy finishes losing his mind, they look bad. That's a bit craven, though I'm *sure* Ford is simply the first company that thought to do it, not the only one.
Update 3/4: As predicted, more and more companies are jumping on the #Winning hash tag.