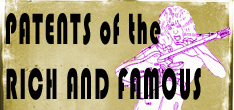 Some celebrities aren't just pretty faces. A few of them are also touched with that Yankee prowess for tinkering and invention. In this weekly series, we introduce you to the Patents of the Rich and Famous. And maybe you learn a little bit about how patent literature works along the way.
Inventor: Marc Jacobs
Known For: Jacobs is a designer. He designs couture garments for his Marc Jacobs line, he designs almost-affordable mainstream clothing for his Marc by Marc Jacobs line. He designs shoes, purses and handbags. He designs "Marc by Marc Jacobs for Marc Jacobs" (trying saying that ten times, fast) accessories.
He holds many patents for his creations -- most of them design patents. But he also holds a non-design patent for this more intricate piece.
Invented Apparatus:"Ring with hidden internal compartments"
It's a ring outfitted with compartments for hiding things.
The present invention relates to a ring and, more particularly, to a ring having a plurality of hidden internal compartments for concealing small articles.
The ring contains outer and inner parts, which rotate opposite one another. The inside ring contains nooks for storage, which are only accessible by removing the ring and rotating the parts until proper alignment is reached, revealing the secret compartments.