Celebrity Invention: Designer Marc Jacobs' Secret Stash Ring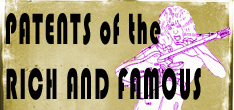 Some celebrities aren't just pretty faces. A few of them are also touched with that Yankee prowess for tinkering and invention. In this weekly series, we introduce you to the Patents of the Rich and Famous. And maybe you learn a little bit about how patent literature works along the way.
Inventor: Marc Jacobs
Known For: Jacobs is a designer. He designs couture garments for his Marc Jacobs line, he designs almost-affordable mainstream clothing for his Marc by Marc Jacobs line. He designs shoes, purses and handbags. He designs "Marc by Marc Jacobs for Marc Jacobs" (trying saying that ten times, fast) accessories.
He holds many patents for his creations -- most of them design patents. But he also holds a non-design patent for this more intricate piece.
Invented Apparatus:"Ring with hidden internal compartments"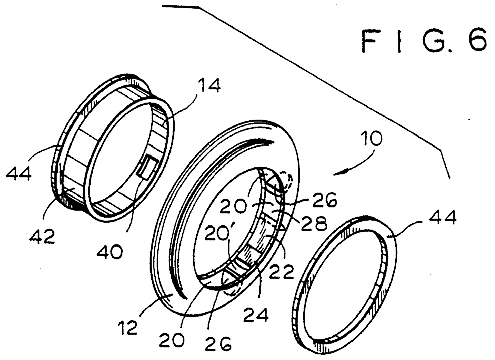 It's a ring outfitted with compartments for hiding things.
The present invention relates to a ring and, more particularly, to a ring having a plurality of hidden internal compartments for concealing small articles.
The ring contains outer and inner parts, which rotate opposite one another. The inside ring contains nooks for storage, which are only accessible by removing the ring and rotating the parts until proper alignment is reached, revealing the secret compartments.
Rationale Behind Invention: Rings with secret compartments existed long before this designer came along. But Jacobs decided that he had to conceive of his own because the old models weren't suitable; the compartments weren't secret enough. Jacobs wanted to create a ring that would safely hold tiny, precious items:
Such rings are not suitable for secret storage of valuables, such as small diamonds or other small articles, first, because an inspection of the ring easily reveals the presence of the hidden compartment, and second, the hidden compartment can easily be opened even while the ring is being worn.
Jacobs created designer jewelry that doubled as a safe for valuables. According to a Los Angeles Times article, Jacobs created the design, which he called a Rattle Ring, to hold loose gems so celebrities like Debbie Harry could carry around their extra ice.
Off-Label Uses: It's hard to believe that the wealthy didn't store other rocks in the ring's hidden compartments.
Future Directions: If Jacobs expects people to store their most valuable wares, we bet his customers would appreciate a little more security. Instead of allowing access to the secret compartments with a simple rotation, Jacobs should add some sort of security system. Maybe a retina eye-scan or fingerprint identification system. Or maybe just a simple combination lock.
Peruse more Celebrity Inventions.