Boycott HarperCollins: Publisher Limits Library E-Book Lending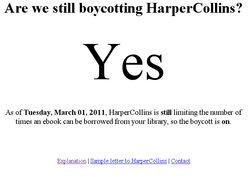 With a statement that largely flew under the radar last week, HarperCollins voluntarily joined a small group of publishers adding to the increasing frustrations of librarians around the country. Any new titles licensed from library e-book vendors will only be allowed to circulate 26 times before the license deal expires, HarperCollins announced. (Currently Simon & Schuster and Macmillan, two other members of what is considered the "big six" in traditional publishing, don't allow e-books to be circulated in libraries at all--but they're in the minority.)
"HarperCollins is committed to the library channel," the publisher said in a short statement. "We believe this change balances the value libraries get from our titles with the need to protect our authors and ensure a presence in public libraries and the communities they serve for years to come."
How many years to come? Publishing is constantly being opened to new formats and has, on the whole, been moving away from the traditional ink-on-paper products we're used to seeing on shelves. It seems libraries--and their readers--are more accepting of this than publishers, who are grasping with their (ever less influential) hands to a business model that was and unnecessarily punishing libraries in the process because they're one of only a few institutions I can think of that will reliably stick to the law. (If you told me I could only share a digital book 26 times, I'd agree, sign the contract and quickly find a way to send it to all 27 of my friends.)
Readers have shown an interest in checking out digital e-books and librarians are trying to--are going to--make that possible. But, in the face of tightening budgets, options are limited.
"Yes, seriously. They think they need to protect authors from libraries," Mike Masnick responded on Techdirt. "That's--to put it frankly--insane. It seriously makes me question whether authors should be comfortable with HarperCollins as a publisher, when it seems to be making moves that clearly go against an author's best interest." There are other publishers, and ones that seem to understand the direction that the industry is moving in, ones that are concerned with getting the material to readers in any format they express an interest in. Will authors seek them out instead? "[T]his kind of move doesn't make HarperCollins look good or like it has any recognition of the digital world," Masnick wrote. "It should be a major turn off to authors who do recognize where the market is headed."
Whether the announcement drives authors away from the publisher will be seen in the coming months, but one thing is certain: A select group of librarians aren't happy. The change in the publisher's legal language sparked the development of a single-serving website, boycottharpercollins.com, that answers a simple question--"Are we still boycotting HarperCollins?"--and provides a brief explanation: "As of Tuesday, March 01, 2011, HarperCollins is still limiting the number of times an ebook can be borrowed from your library, so the boycott is on" (emphasis in original).
Maintained by librarians Brett Bonfield and Gabriel Farrell, boycottharpercollins.com explains that putting circulation limits on e-books could encourage libraries to buy additional copies--but that's just speculation at this point. "[L]ibraries have limited budets, especially in the current economy, so there is a good chance that libraries will spend the same amount on e-books they are already spending but offer less variety because they would have to buy more copies of the most popular items," Bonfied and Farrell wrote.
Or maybe libraries will just cut HaperCollins books out of their rotation entirely. A 26-loan limit doesn't make any sense. Josh Marwell, HarperCollins' president of sales, told Library Journal last week that the 26 circulation limit was carefully chosen and was arrived at only after "considering a number of factors, including the averge lifespan of a print book, and wear and tear on circulating copies." But Bonfield and Farrell point out that many libraries are still circulating century-old books. And besides, the compromise has been made: There are restrictions on libraries already in place that make loaning an e-book similar to loaning a traditional book. For example, many libraries have arrangments with publishers and vendors that prohibit them from lending out more than one digital copy of a book at a time, and often only for two weeks. Librarians aren't willing to give any more than they already have.