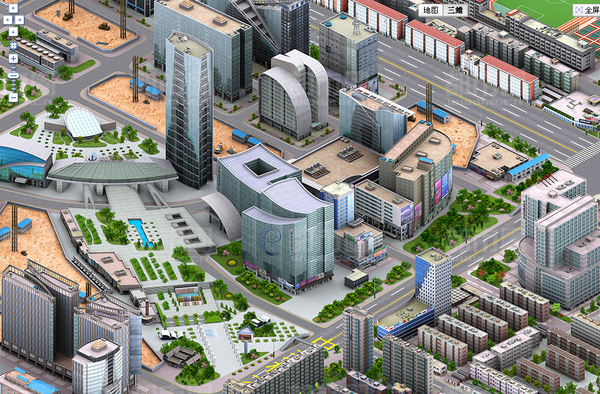 Over the weekend, Digg co-founder and tech angel investor Kevin Rose sent out a tweet about Baidu's maps. "Whoa, so rather than use satellite images BAIDU (the Chinese Google) hand draws their maps, so cool," he tweeted to his one million-plus followers. The tweet elicited a series of shocked responses: "Cool," "BADASS!," "Reminds me of playing Sim City," "Rad," "!!!" people wrote. There was also a lot of speculation that Baidu uses hand-drawn maps because they're much easier to censor. Whatever the reason, the maps are pretty rad.
Moving around the Chinese cities using Baidu's maps is a strange experience. There are no cars, no people; all you see are clean lines and beautiful skyscrapers. This is a utopian version of what the cityscape actually looks like.
If you enter an unrecognized address in the search field, Baidu defaults on the image below, which I assume is a hand-drawn version of Beijing's Forbidden City, the Chinese imperial palace that served as the home to the country's emperors for nearly five hundred years. The Meridian Gate, or entrance, is seen at the bottom-left and the Gate of Supreme Harmony separates it from the Hall of Supreme Harmony in the center of the complex.