Adventures Inside the Atom: The Nuclear Dream in Comic Book Form
A 1948 comic book shows the hopes that industrial giants had for nuclear power at a time when the atomic bomb overshadowed the civilian possibilities of the atom.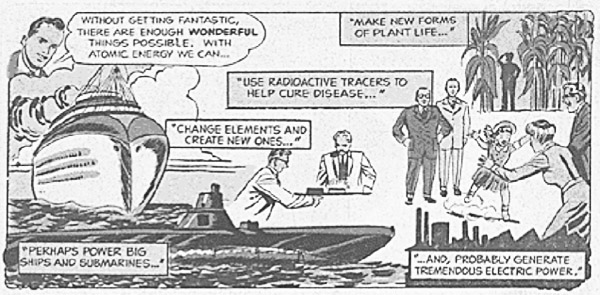 In the late 1940s, the atom was in need of some good PR. After the United States used atomic weapons to end Japan's resistance, an entire half century of brilliant research in nuclear physics suddenly seemed merely a handmaiden to the war that would destroy humanity. A group of prominent scientists published a book called One World or None, and it seemed as if the "none" was a real possibility, thanks to the power of the atom.
So, in 1948, General Electric and the rest of the nuclear establishment went to work on convincing people that the atom was friendlier than Hiroshima would suggest. They released what we would call propaganda now promoting nuclear energy as the way of the future. Though nuclear power didn't take off until the mid-1960s, the comic books and television programs of the years preceding its commercialization laid the ground work for the nuclear age.
Here, we have a fine example of GE's work. It's called Adventures Inside the Atom, and it tells the story of Johnny, a young boy, who learns all about the history and promise of atomic energy.