A Peek Inside the Conservation of the Jefferson Bible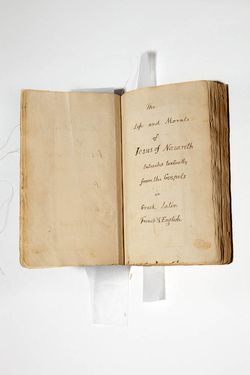 How do museum professionals define the condition of an artifact, and determine whether it can be used or exhibited without harm? The answer is by very, very careful investigation, especially when the artifact is the 
Jefferson Bible
, otherwise known as 
The Life and Morals of Jesus of Nazareth
. Using excerpts from the Four Gospels of the New Testament, Thomas Jefferson arranged the text to tell a chronological and edited story of Jesus' life and moral philosophy.
A national treasure, the Bible recently received microscopic-level examination by a team of conservators trained in both book and paper conservation and by conservation scientists who specialize in materials analysis. A University of Hawaii intern created a purpose-built database to capture all the data observed. How much data? The Jefferson Bible conservation survey database holds over 200 points of observation for each page, and over 20,000 for the entire book.
The Jefferson Bible was made by Thomas Jefferson himself between 1819 and 1820. He cut out Biblical passages which were important to him, and glued them, scrapbook style, into folios of blank paper. Verses were arranged chronologically and in columns in four translations. Next to the English language verses are columns of the same verses in French, Greek and Latin. Jefferson wrote notes in the margins in iron gall ink. The book is made from twelve different types of paper, six different printing inks, and at least three different home-mixed iron gall ink recipes. His bookbinder, Frederick Mayo, bound the 43 folio pages in a red morocco leather binding.
The Jefferson Bible is a magnificent exercise in complexity, and planning for its conservation is, too. The survey database captures vital details about all the materials Jefferson used to make the book, and organizes them into the categories: "Recto," "Verso," "Primary paper," "Paper clippings," "Iron-gall ink," "Printing ink," and "Adhesive," and then subdivides them again, "Greek text," "Latin text," "French text," "English text," "Page Number ink," "marginalia ink," etc., and then subdivides them some more. These tiers of observation points were organized in a way that allowed the conservators to assess the book in a manner that minimizes the handling of this delicate bound artifact. Conservators worked in teams, as both collaborators and eye witnesses for each other, systematically calling out survey fields for each other and entering their responses in the database.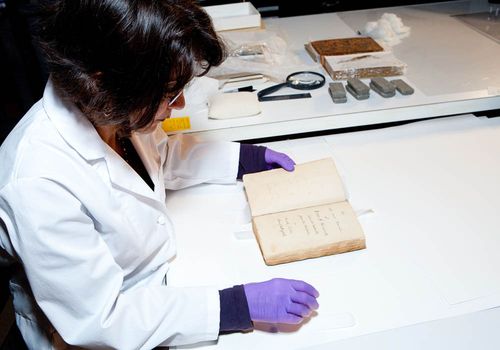 Twenty-thousand data-points later, the survey is not only a clear description of the artifact's condition, but also an intimate view of Jefferson's handwork and his intellectual clarity.
See more posts from and about the Smithsonian.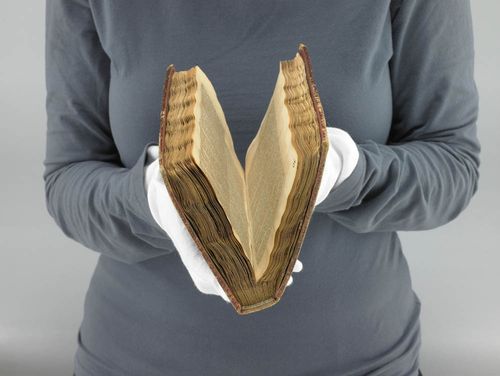 ---
This post was originally published on the National Museum of American History's "O Say Can You See?" blog and is republished here with permission.