25 Other Energy Disasters From the Last Year
The earthquake-induced disaster at the Fukushima nuclear complex in Japan has rightly brought back the safety of nuclear power to the center of the American debate about energy. But as we evaluate the safety of our energy sources, it's worth considering the everyday disasters of the fossil fuel economy too.
Every week, miners, pipeline workers, roughnecks and plant workers die across the globe, but the tragedies in which they take part are generally smaller and less dramatic than the high-tech guessing game that riveted the world's attention as the nuclear reactors neared meltdown.
This post is contains a long list -- as comprehensive as I could make it -- of serious explosions, accidents and other disasters that have occurred within the fossil fuel world over roughly the past year. I've included photographs when I could obtain them.
From mine collapses in China, West Virginia and Russia to natural gas explosions in San Bruno, California and Middletown, Connecticut to the Deep Horizon blowout, the fossil fuel world is dirty, dangerous and precisely what provides most of our energy. And all this doesn't take into account the thousands of private tragedies of those who die prematurely from inhaling the byproducts of combustion.
We need to take nuclear safety concerns very seriously, but let's not forget what the baseline for our energy system is.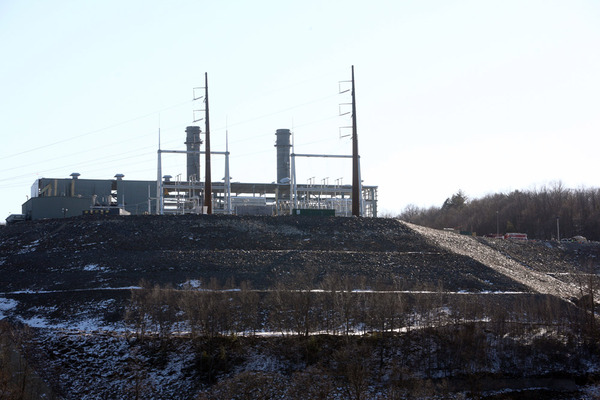 Refinery explosion
February 7, 2010
Middletown, Connecticut
Six people were killed at an explosion at the Kleen Energy refinery. The explosion eventually led the government to levy $16.6 million in fines because of 225 "willful" violations of safety procedures at the plant. (Seen above.)
Refinery explosion
March 2, 2010
Artesia, New Mexico
Two workers were killed and two others seriously injured in a blast near an asphalt tank at the Navajo Refinery.
Coal mine accident
March 15, 2010
Zhengzhou, China
25 workers died after a fire broke out in the Dongxing Coal Mining Company's main elevator shaft.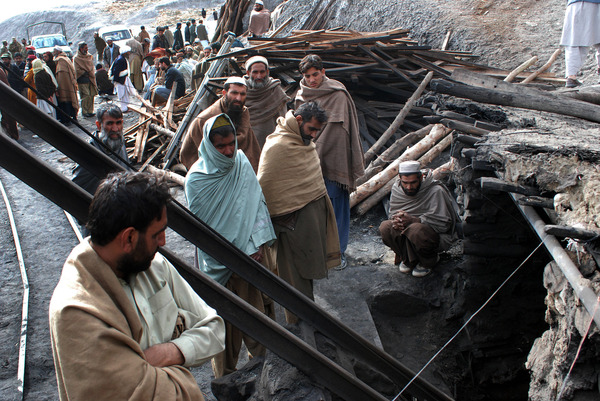 Coal mine accident
Quetta, Pakistan
March 20, 2011
45 miners died in a coal mine collapse. Most suffocated from inhaling methane gas. (Seen above. AP/Arshad Butt)
Coal mine accident
Shanxi, China
March 28, 2010
After a flood trapped 153 workers underground in the Wangjialing coal mine, a massive Chinese rescue effort saved most of the workers. 38 still died in the tragedy. (Seen above. Reuters/Donald Chan)
Coal mine accident
Yichuan, China
March 31, 2010
44 workers died in a blast at a small coal mine.
Refinery Explosion
April 2, 2010
Anacortes, Washington
Five fatalities resulted from a blast at the Tesoro refinery in eastern Washington State.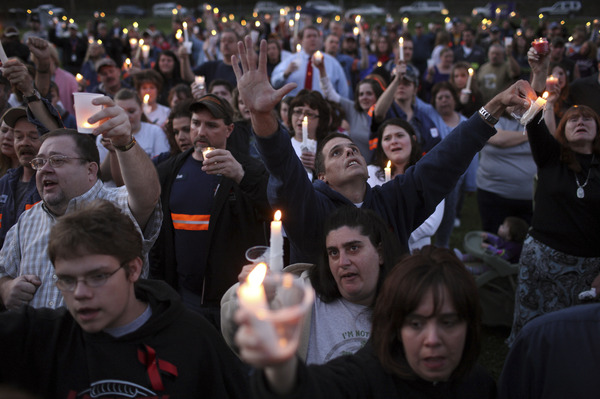 Upper Big Branch Mine Explosion
Raleigh County, West Virginia
April 5, 2010
29 miners were killed at a Massey Energy controlled mine. (A vigil for the miners is seen above. Reuters/John Gress.)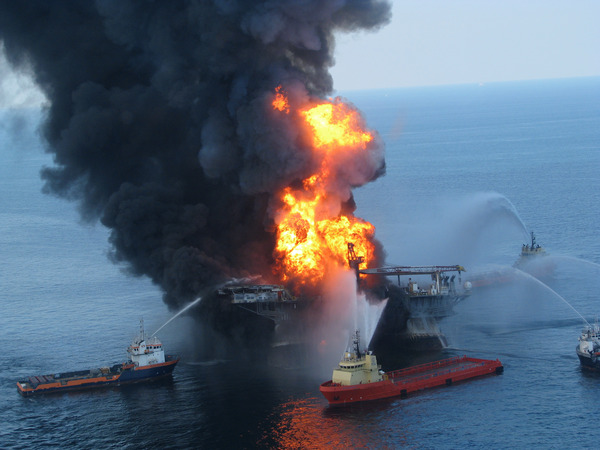 Drilling rig accident
Gulf of Mexico
April 20, 2010
11 workers were killed when an explosion rocked the BP Deepwater Horizon well. Before the environmental catastrophe ended, 200 million gallons of oil had been released into the Gulf of Mexico. (Seen above. Reuters/Ho New.)
Coal mine accident
May 8, 2010
Mezhdurechensk, Russia
91 people were killed in an explosion at the Raspadskaya in Siberia. 129 people were also injured in both the initial blast and the subsequent rescue effort, which was hampered by a second explosion. (Seen above. Reuters.)
Gas explosion
Anshun City, Guizhou, China
May 14, 2010
21 people were killed by a gas explosion.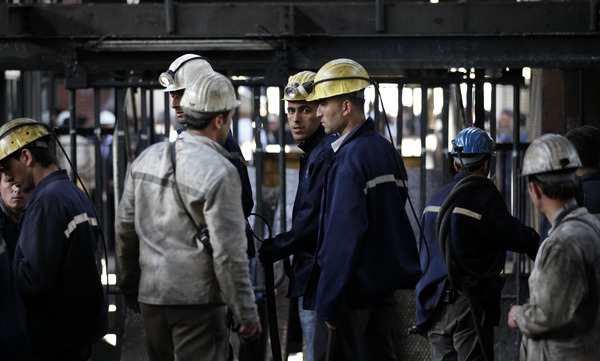 Coal mine accident
Zonguldak, Turkey
May 18, 2010
28 coal miners were killed after an underground explosion collapsed the mine. (Seen above. Reuters/Umit Bektas)
Coal mine accident
Shanxi Province, China
May 19, 2010
10 workers were killed in yet another Chinese coal mine blast.
Coal mine accident
Chenzhou City, China
May 30, 2010
17 people were killed in a coal mine after dynamite stored at the site exploded.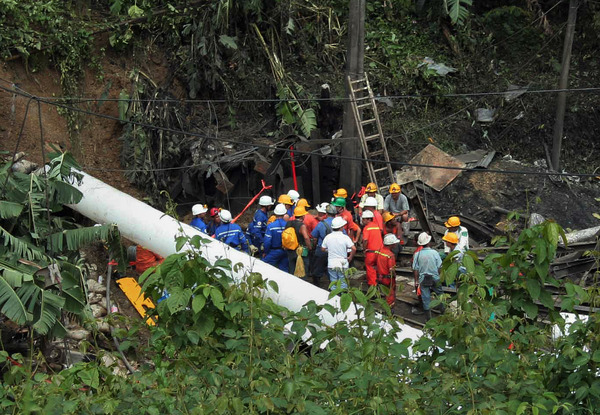 Coal mine accident
Amaga, Colombia
June 17, 2010
73 workers were killed in a gas explosion that struck in the middle of the night. (Seen above. Reuters/Fredy Amariles)
Coal mine accident
Pingdingshan City, China
June 21, 2010
46 people were killed by carbon monoxide poisoning after a explosion in a mine.
Natural gas explosion
Los Angeles, California
July 30, 2010
One person was killed in a natural gas explosion apparently caused by tampering with a gas pipe.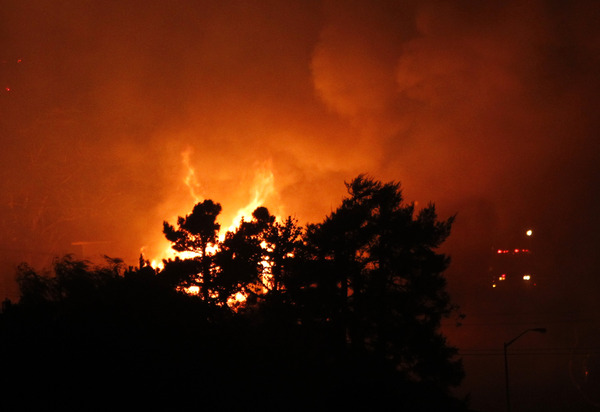 Natural gas explosion
San Bruno, California
August 10, 2010
Five people were killed and more than 50 people injured when a natural gas pipeline exploded in the San Francisco suburb. 38 homes were destroyed. (Seen above. Reuters/Robert Galbraith)
Coal mine explosion
Yuzhou, China
October 16
At least 20 miners were killed in a coal mine explosion. (Seen above. Reuters.)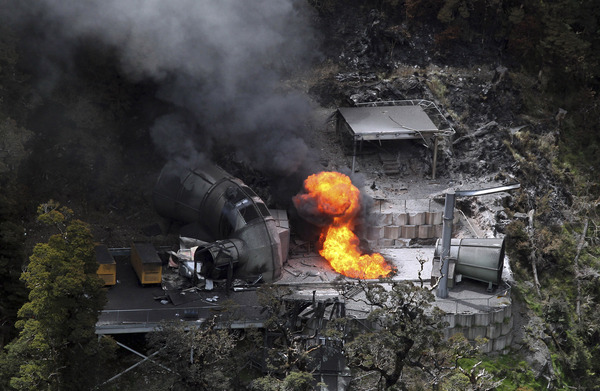 Coal mine accident
Greymouth, New Zealand
November 19, 2010
29 coal miners died after gas explosions at the Pike River mine in New Zealand. (Seen above. Reuters)
Coal mine explosion
Heilongjiang Province, China
November 21, 2010
87 workers were killed in the worst coal mining accident of 2010 in China.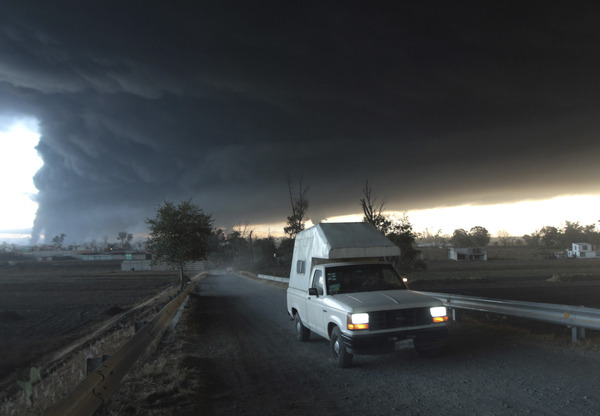 Oil pipeline explosion
San Martin Texmelucan, Mexico
December 19, 2010
27 people were killed and more than 50 people were injured in an explosion that was claimed to be caused by tampering with the pipe. (Seen above. Reuters)
Natural gas explosion
Wayne, Indiana December 29, 2010
Two workers were killed after a natural gas explosion at a furniture store.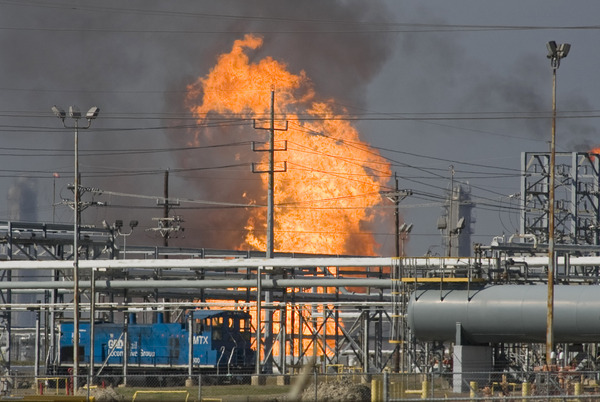 Natural gas explosion
Mont Belvieu, Texas
February 9, 2011
One fatality at a plant explosion. The resulting fire burned for 22 hours. (Seen above. Reuters/Richard Carson)
Natural gas explosion
February 10, 2011
Allentown, Pennsylvania
A gas pipeline explosion kills 5 and destroys 8 homes.