What Does The Daily's Design Say About Its Direction?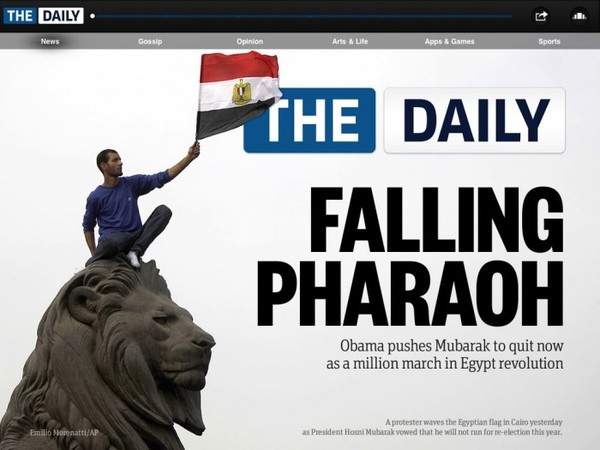 It's been a few days now since Rupert Murdoch and Apple's Eddy Cue appeared on the Guggenheim's stage together to launch the first iPad-only newspaper -- sort of -- and Internet commenters have been talking about everything from the quality of the content to the pricing structure. But this is a digital product meant to be consumed on an immersive tablet; it's time to take a closer look at the work of the designers who spend their days trying to make The Daily aesthetically pleasing. What do their decisions about font and space, about leading and kerning, tell us?
The Daily is less a newspaper than a daily magazine with a bit of news. Others have already commented on how the content leans heavily towards sports and gossip. The editor -- Jesse Angelo, also of the New York Post -- was noticeably prickly at the launch event when asked what percentage of their resources would be devoted to long-form investigative reporting. While the content is on the lighter side, the design isn't frivolous or cute. It's not Gray Lady formal, but it does have the look of a fairly serious weekly news magazine. Much of this posture comes from steering clear of ultra-modern or casual typefaces and choosing the more conservative Founders Grotesk, Kris Sowersby's ode to English Grots of the early 1900s. Sowersby toned down the idiosyncrasies of the old types, but not their heft and directness.

Founders Grotesk has tight spacing, which works well for most of the headlines. Unfortunately, The Daily doesn't loosen the tracking for captions and other smaller settings, which strains readability. Sowersby's philosophy for Founders was to space the fonts for display use because users "can obtain better results by opening tight spacing for text, rather than closing loose spacing for display." I'm not sure I agree, but I'd love to hear other type designers' thoughts on that strategy.
Read the full story at Fonts In Use.
H/T Paul Zolandz.