The Idealism Clinic: On the Origins of Egypt's Revolution
With the help of a WikiLeaks cable and reporting from his 2008 feature on Egypt's Facebook revolutionaries, David Wolman reconstructs one of the places where the current movement gained strength.Youth activists had a plan for taking out Hosni Mubarak's government in 2011, but the State Department didn't think it could happen.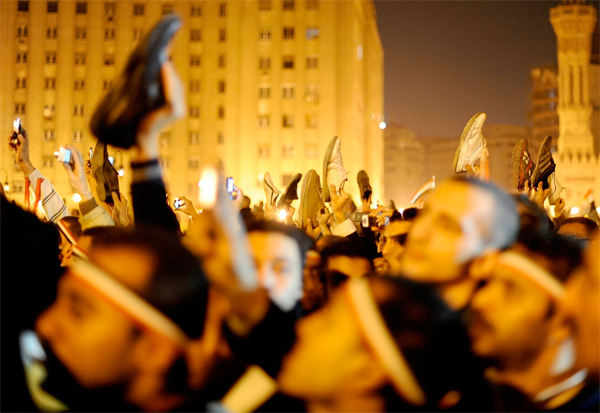 On December 23, 2008, a young Egyptian dissident sat down with US embassy officials in Cairo to share highlights from his recent travels, and to discuss plans to topple Hosni Mubarak's regime before the country's 2011 election.
He had just returned home after a trip to New York and Washington DC that was paid for by the State Department. Activists from Egypt, Burma, Darfur, Columbia, and elsewhere had been invited to attend a State-sponsored event dubbed the Alliance of Youth Movements Summit. With support from a medley of sponsors -- Google, Facebook, Howcast, YouTube, MTV, Columbia Law School, and Access 360 Media -- the three-day Summit was packed with seminars, speeches and workshops focused on finding the "best ways to use digital media to promote freedom and justice, counter violence, extremism and oppression." They met officials on Capitol Hill, produced "a field manual for youth empowerment," and even met The View co-host Whoopi Goldberg.
During his sit-down at the embassy, the activist "expressed satisfaction with his participation" in the Summit, according to a WikiLeaked cable describing the meeting and written by Catherine Hill-Herndon, now the embassy Counselor for Economic and Political Affairs. The other Summit attendees, the dissident informed his interlocutor, were supportive of the opposition movement in Egypt, and shared tips for evading internal security forces, such as how to keep switching a mobile phone's simcard. (The activist's homecoming was noticeably less positive: he said that upon arrival back in Cairo, security police interrogated him at the airport and confiscated all his notes from the Summit.)
The dissident was meeting with U.S. officials as a representative of the April 6 Youth. The activist group had rocketed to prominence in the spring of 2008, after attracting more than 70,000 members to their Facebook group and helping to incite a springtime strike in the town of El-Mahalla el-Kobra. This nebulous coalition caught Mubarak's security forces off guard with their tech-savvy methods of communication, mobilization, and anywhere-anytime virtual assembly. These events took place well before Western commentators were deriding Facebook-enabled organization, but 27 years after Mubarak established Emergency Law, which made any real-world assembly of more than five people illegal and cause for jail or a beating.
The April 6 Youth tried to orchestrate other boycotts and peaceful protests, in a sometimes-fumbling-and-frequently-foiled attempt to criticize the government and inspire the masses to take action. But with state security crackdowns and online saboteurs sowing doubt among the dissidents, the group had trouble replicating their original success. To outsiders, they looked like a one-hit wonder. "Fledgling Rebellion on Facebook is Struck Down by Force in Egypt," declared the Washington Post in May 2008. But the activists' commitment only intensified.
In her December 30 dispatch to Washington, Hill-Herndon dutifully recounted the different topics covered in her conversation with the dissident: "[He] said he wants to convince the USG [U.S. government] that Mubarak is worse than Mugabe, and that the GOE [government of Egypt] will never accept democratic reform. [He] asserted that the GOE derives its legitimacy from U.S. support, and therefore charged the US with 'being responsible' for Mubarak's 'crimes'."
As for the goals of the upstart activists and April 6 Youth's place within the wider context of political opposition in Egypt, Hill-Herndon wrote that the activist "alleged that several opposition parties and movements have accepted an unwritten plan for democratic transition by 2011; we are doubtful of this claim ... replacing the current regime with a parliamentary democracy prior to the 2011 presidential elections is highly unrealistic, and is not supported by the mainstream opposition." The 2-page cable uses the word unrealistic three times, twice amplified with highly. Most opposition parties and NGOs, she continued, favor "incremental reform within the current political context, even if they may be pessimistic about their chances of success. The activist's wholesale rejection of such an approach places him outside this mainstream of opposition politicians and activists."
Four months before this meeting, a few dissidents had gathered late one evening at a hookah bar on Elwy Street, near the stock exchange, to discuss politics and what they should do next. "How do we show the U.S. government that there is secular opposition here, separate from the Muslim Brotherhood?" one of them asked. "They don't believe we are mature." The April 6 event had been a success thanks to just the right confluence of events, including rising food prices and the viral popularity of the Facebook group. "Now we need just the right date and conditions again."
When Tunisia happened, the quixotic members of April 6 Youth were more than ready. They were in position. Perhaps the most appropriate setting for the next Alliance of Youth Movements Summit will be Cairo.
Image: REUTERS/Dylan Martinez.