Preserving the Online Legacy of the Egyptian Revolution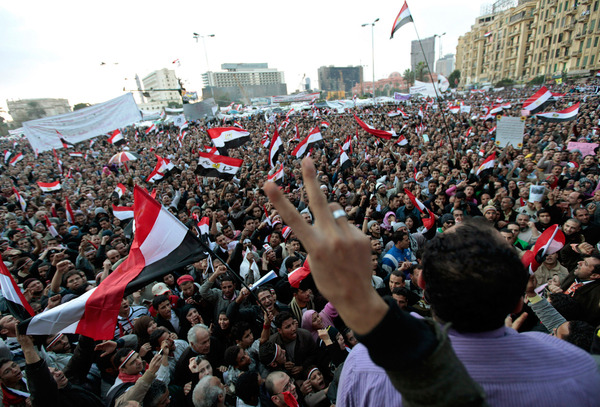 Regardless of how much you think social media aided the revolution in Egypt, one thing we know for sure is that Egyptians uploaded videos, posted pictures and tweeted hundreds of thousands of times during the 18 days between the January 25 protests that invigorated the movement and the the day Hosni Mubarak stepped down.
Somewhere in all that real-time information sharing, there are deep and important stories about how the revolution played out in the streets and hearts of Egypt.
But the problem is, there's no single place where one could find all of that information, particularly with any kind of metadata attached about where it came from and who made it. Worse, Twitter's search function only works for a limited amount of time, which means that searches for #Jan25 or other popular hashtags will soon come up empty. Facebook shares will melt down timelines.
The online life of the revolution is in danger of slipping away from easy retrieval. It's being buried under the avalanche of always-new events. But a few people are trying to preserve what happened.
In the official realm, there's word that the Library of Alexandria is creating an archive of the transformation of Egypt, "collecting flyers, official documents, videos and so on." But one suspects that projects native to the web will have an easier time finding and preserving all that went on at YouTube, Facebook, Twitter, blog posts and on other social media sites. And luckily, there are a few of those.
CitizenTube has been curating videos of all the Middle East and North African protests. For Egypt, they have dozens and dozens of raw clips from the fight for the country. CitizenTube is a joint project of YouTube and a new journalistic project called Storyful, founded by Irish journalist Mark Little. The site's about page reads like a much-needed manifesto about much more than news:
Storyful was founded by journalists who wanted to curate the real-time web. In other words, separate the useful news from the river of noise flowing through channels like Twitter and YouTube. We set out to discover the most authentic sources on the big stories... We believe every story starts with a single voice, not a conversation in a newsroom. There is no such thing as a scoop, just a story before its inflection point. Storyful's golden rule is there is ALWAYS someone closer to the story.
Some individuals have stepped to the archival mission, as well. Andrew Carvin, NPR's social media expert, has also been curating news about the unrest in the Middle East with superhuman tenacity--and his real-time, Twitter-based news feed will no doubt be an important reservoir of information going forward.
But collection and curation is only part of the process by which we find meaning in events. The truth is when you look at a handful of videos or a progression of Tweets, it's hard to connect those moments to the greater narrative of the revolution. One downside to the kaleidoscopic perspective of today's media landscape is that it's hard to tell just what the hell is going on half the time.
18 Days in Egypt aims to be a crowd-sourced documentary about what happened there. Launched just a week ago by former New York Times video journalist and current Knight fellow at Stanford University, Jigar Mehta, the site wants to tackle the difficult task of providing the right context for the raw videos and news that others have posted and collected.
Mehta said that his team, which includes interaction designer Yasmine Elayat and fellow documentarian Alaa Dajani, is working to build a sort of URL uploader that would allow them to collect more information about Tweets, video clips and Facebook.
"The ask is A, you've uploaded your footage and B, we want you to be engaged," Mehta said. "We want you to go back and add more information to your photo orvideo. Add the tag, the day it was done. Add the location. Let's amass this information."
To start the effort, they're working on scraping posts to Flickr, YouTube and Twitter that are tagged #18daysinEgypt.
It's a new effort, obviously, and a lot of details still have to be worked out, but Mehta said that they they'd like two things to come out of the project. First, a normal crowdsourced long-form documentary created exclusively with footage from people on the ground. Second, they've got an intriguing idea for creating an online exhibit where you'd be able to "play back" any given time during the 18 days.
So far, they've spent just $60 on domains and a couple cases of beer, but Mehta sees the project going for many months and expanding to include monetary support from foundations and maybe even some sort of kiosk or pop-up uploading station in Cairo where people without easy access to the Internet could upload images from their phones and cameras.
"A million people plus have experienced something and many of them had access to some sort of recording device," Mehta said. "We're just seeing the tip of the iceberg online of what's out there."
If you know of other efforts to catalog or archive digital media about the struggles in Egypt, Tunisia, or other countries, do let us know.
Image: Reuters/Dylan Martinez.