Personal Moments of Internet Victory
by Lizzy Bennett
We all have one. A moment of personal Internet victory. Mine involves online shopping (shocker).
I first set my sights on my goal two years ago, during lunch at Farina in San Francisco's Mission neighborhood. As I headed to the bathroom I saw it: 72 Lichtenstein-style faces encased in a custom frame. Several meals later, I got my first tip. The gorgeous Italian woman responsible for the restaurant's interior design -- a modern Italian oasis -- told me that the "faces" are the back covers of Diabolik comic books. With the word "Diabolik" fixed in my mind, I was ready to launch an all out Internet attack.
(Left:) The target. 72 Diabolik books in a custom frame in San Francisco's Farina restaurant.
Phase I. Research - I Googled "Diabolik comic books" and quickly learned that they're the James Bond series of Italy. The books are released monthly and always feature a character on the back cover, but not all back covers are equal! The 1967 and 1968 vintages are the most Lichtensteinian. I had my target.
Phase II. Sourcing - I recruited my Aunt and Uncle in Rome, who like all good Italians knew of the enchanting fumetti, to start hunting for the books.
9/9/09 - Roman Aunt to Lizzy: "I will start looking around for these... if they had them in Pieve [small town in the mountains], they MUST have them in Rome too."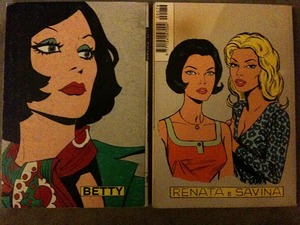 (Left:) The first two Diabolik books received from my resourceful and generous Aunt and Uncle in Rome.
I set up an eBay search and became email friends with Fabio, Diabolik's so-called Web Master in Italy. My aunt and uncle and Google translate were critical in my relationship with Fabio.
10/5/09 - Lizzy to Fabio: "Caro Fabio, Ho intenzione di ordinare tutti i numeri di Diabolik degli anni 1998-2005."
Fabio actually wrote back (!) and offered me a discount (!!).
10/6/09 - Fabio to Lizzy: "To have the discount you have to register in the secret area."
But what does it mean?! I miraculously found my way to Fabio's secret area and advanced to the final page of checkout. But one final hurdle remained.
Phase III. Order Placement - An Italian tax ID Number was a required field of Diabolik's checkout process. An Italian Tax ID Number is, "An alpha numeric code which is assigned to all Italians at birth. Online stores in Italy may request [the code] before a purchase can be completed." Easy, I thought. I'll just make something up until it works. But the site was smart enough to reject all my imagined tax ID numbers. Exasperated I Googled "create italian tax number" and found this this magical site. Could it be?! Step by step instructions on how to create a fake tax code in Italy? In hindsight I shouldn't have been surprised, but it seemed too good to be true. I followed the instructions and placed my order. Success!
10/6/09: Order confirmation from Diabolik: "Complimenti per la scelta! Il tuo ordine è andato a buon fine e presto riceverai direttamente a casa tua i diabolici prodotti che hai scelto!"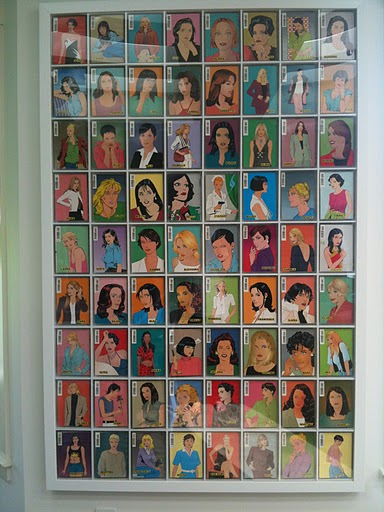 (Left:)
The final product: 72 expertly framed Diabolik fumetti.
I didn't receive a tracking number but knew better than to ask for one. I tried to take comfort that if I was concerned about my order I could "inviare una e-mail a: negozio@diabolik.it." Guess who responds to negozio@? Fabio.
10/8/09: I trip over a massive box of books on my way out the door at 6:45 am.
The books had arrived. VICTORY!
Phase IV: Framing - I Yelped local framers in San Francisco and found Peter Ong at The Great Frameup. I triumphantly marched to Peter's shop, 72 books in tow, and explained the project. Peter was up for the challenge, and a few months later, the expertly framed fumetti hung triumphantly in our apartment. A photo of the finished project is The Great Fame Up's profile photo on Yelp.
While we've learned to Google things before asking questions and are therefore accustomed to small, daily victories of books found, people identified and places discovered, the Diabolik project remains my greatest Internet victory. What's yours?
Lizzy Bennett is online marketing manager for Timbuk2 Design in San Francisco.