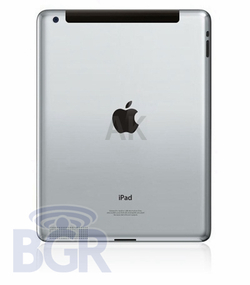 It's been in the works for a while now, but
Boy Genius Report
has finally received an image from a tipster that looks like a convincing prototype, given all of the rumored changes to the tablet. Apple is planning to officially launch the updated product at a March 2 event, for which invitees were told to "[c]ome see what 2011 will be the year of."
Is this the iPad 2? Nearly everything lines up with the leaked info: flat back with tapered edges, speaker in the bottom corner, camera up top. It even matches-up with most of the leaked cases. If it's not the real thing, it's a damn good render. I'm sold.

The only thing missing is the rumored mystery connection found on a couple of leaked cases. It's widely thought after last week's MacBook Pro refresh, this hole is for a Thunderbolt port as it would effectively replace a USB connection while providing additional functions. March 2nd can't get here soon enough.
Read the rest of the story at TechCrunch.
UPDATE: BGR updated its post, noting that "it's looking like this image was created by an Apple fan and is not an official render." All of the things we know--or think we know--about the iPad 2 seem to be included in the image, though. Expect something very similar to this to be unveiled on Wednesday.