Facebook Adds Same-Sex Relationship Statuses
"People want to go online and check out their friends, so why not build a website that offers that?," declared Jessie Eisenberg as Mark Zuckerberg in 2010's The Social Network. "Friends, pictures, profiles, whatever you can visit, browse around, maybe it's someone you just met at a party. Eduardo, I'm not talking about a dating site, I'm talking about taking the entire social experience of college and putting it online."
But since its inception, Facebook has never totally reflected the complex nature of modern relationships, especially those with dubious legal status. On Thursday, Facebook introduced its latest update to the website's romantic options, which now include "in a civil union" and "in a domestic partnership."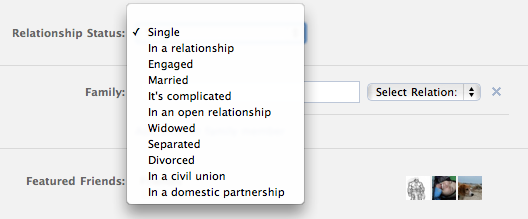 The inclusion of legal relationship titles is being lauded by LGBT groups:
The choices used to only be "single," "in a relationship," "engaged," "married," "separated," "in an open relationship," "it's complicated," "widowed" and "divorced."

Facebook has more than 600 million active users globally and human-rights groups hailed the move as a huge step forward for the greater equality and understanding of same sex unions.

"I think it's important to be able to recognize and describe the legal status of same sex couples," said Marriage Equality media director Mollie McKay.

"It's good visibility and good to show everyone on Facebook that same-sex couples exist, and are denied the status of marriage."

"Today, Facebook sent a clear message in support of gay and lesbian couples to users across the globe," said Jarrett Barrios, president of the Gay & Lesbian Alliance Against Defamation.

"By acknowledging the relationships of countless loving and committed same-sex couples in the U.S. and abroad, Facebook has set a new standard of inclusion for social media."
Read the full story at the New York Daily News