Can Google and Facebook Push Adultery Sites Off the Internet?
Noel Biderman, the man behind the wildly successful AshleyMadison.com, is helping to facilitate extra-marital affairs. Microsoft, Google, and Facebook want no part of it. Crying censorship, Biderman is fighting back.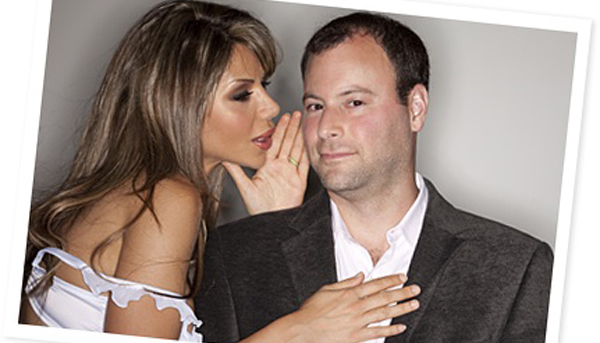 Noel Biderman is infamous for owning the site that helps married people have affairs, AshleyMadison.com. But he doesn't publicize the fact that he also owns six other niche dating sites--CougarLife.com, which hooks older women up with younger guys; ManCrunch.com, which pairs gay men; Swappernet.com, which matches swingers; and others--for fear that the sites will suffer in the pall of Ashley Madison controversy. Last week BusinessWeek's cover story, "Cheating, Incorporated," covered the wild success of Ashley Madison as well as the lengths to which Biderman goes to defend his site. But lately, Biderman has been fighting a battle on several fronts, trying to protect his other properties' ability to advertise as Ashley Madison ads are systematically yanked off TV and the Web.
Since Biderman, 39, took out a billboard in Beverly Hills advertising the cheating site in 2007, he's become both a de facto expert on infidelity and a scapegoat for failed marriages. And getting lambasted in public is only good for business: When Sean Hannity attacked him on-air last spring, Ashley Madison received 20,000 hits per second and nearly crashed. Because of his site's impressive growth--Ashley Madison has 8.5 million members and at least 12 million monthly visitors, making it, Biderman believes, the fastest growing social network after Facebook--Biderman was content to just accept that people hated him. But then media giants like Facebook, Google, ABC and Fox went after his businesses, refusing his ads, pulling his Super Bowl commercials and even blocking Facebook messages containing "AshleyMadison.com."
Biderman and his wife, who have two young children and live in Biderman's hometown of Toronto, believe they have been unfairly vilified (the BusinessWeek story described Biderman as "possibly evil"). Now they are done biting their tongues: They are sick of people making assumptions about their personal sex life, they are sick of getting hate mail, and they are especially worried about what they see as a growing censorship crisis in the U.S. "People think that if they eradicate Ashley Madison, they'll eradicate infidelity," Biderman says. "Companies like Google and Microsoft are playing Big Brother and they're not telling you what you're doing. It's almost like, if Noel touched it, they censor it."
It started at the company's inception in 2002: TV networks balked at his business concept when Biderman tried to buy ad spots. Still, Ashley Madison ads were permitted opposite programs like Jerry Springer and on ESPN. Then in 2007, Microsoft's MSN.com stopped letting Ashley Madison advertise and buy keywords, which it had done since 2002. Bing, which is also owned by Microsoft, followed the same policy. MSN and Bing won't even let Biderman buy the words "Ashley Madison," which Biderman trademarked. "If you type in the world 'infidelity' on Bing but Bing pretends that Ashley Madison doesn't exist, they're redefining the word," Biderman says. He says that MSN told him it was a "policy of one: my company and my company alone." Other cheating sites began buying the same keywords on MSN and Bing and using Ashley Madison's tagline: "Life is short. Have an affair." Biderman complained to Microsoft, but the company continued selling ads and keywords to the competing sites. There was nothing Biderman could do. On March 3, Microsoft will officially change its trademark policy, further reducing Biderman's negotiating power. "It will continue to investigate complaints about trademarks in advertising text but will no longer investigate complaints about trademarks used as keywords on Bing and Yahoo! Search," a Microsoft spokesperson said.
The other media giants followed Microsoft's lead. In 2009, ESPN stopped running Ashley Madison ads, which it had aired since 2002. When ABC premiered the show Cougar Town starring Courtney Cox, Biderman pushed to advertise CougarLife.com but ABC refused. Then NBC asked Ashley Madison if it would be interested in creating a commercial to run during the 2009 Super Bowl. Ashley Madison hesitated--it was a big investment that would be wasted if the company encountered more obstacles--but eventually made the ad. Before the big game, the NFL refused to air the expensive commercial. Instead, it ran locally on NBC in certain parts of Texas.
So last year, when CBS had broadcast rights to the Super Bowl and Biderman was preparing to launch his new dating service for gay men, ManCrunch.com, he had another choice to make. "I knew there was zero chance that CBS was going to accept an ad for a same-sex dating site," Biderman says. Man Crunch wasn't even live yet, but Biderman saw another publicity opportunity: "We thought, 'Let's just do one of these ads that we know will get rejected,'" he says. They shot the whole commercial in 25 minutes. When CBS refused it, Biderman's company posted it all over YouTube and the Web, tagging it as the "banned Super Bowl commercial." When Fox, which aired the Super Bowl this year, approached Ashley Madison about creating an ad for the 2011 game, Biderman knew there was little chance it would air. Still, the company created the commercial, which Biderman calls "very tame." When it was rejected, Ashley Madison used the same surefire marketing strategy, posting the "banned" ad all over the Internet.
* * *
Last fall, Facebook, which Biderman already paid $300,000 to advertise Cougar Life, told Biderman it would no longer run his ads. A spokesperson for Facebook says it does not have a "broad ban on 'cougar' ads but dating ads have specific targeting restrictions and cannot be "overtly provocative or sexual." Facebook has never accepted Ashley Madison ads. Still, Biderman takes particular issue with Facebook because he feels that the company is hypocritical, refusing his ads while enabling "sexual dalliances" in the same way for which Ashley Madison is criticized. But Biderman refutes one contention in BusinessWeek's story: "I'm not obsessed with Facebook," he says. He was angry, however, to discover recently that Facebook messages containing the URL AshleyMadison.com were blocked, immediately presenting users with an error message below. Facebook says it temporarily blocked messages containing AshleyMadison.com because the URL was distributed in a spam campaign on the site, although it would not confirm whether the company had been involved. Messages containing the address were blocked as of Monday afternoon but re-enabled the following night after this reporter contacted Facebook for comment.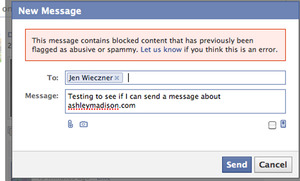 But no company has put up more roadblocks to Biderman's strategy than Google. When Biderman tried to buy Ashley Madison ads on YouTube in 2009, Google not only denied his company but also banned it from advertising on the hundreds of thousands of sites in Google's Content Network. In May of 2010,
Google announced
it would no longer allow ads from sites containing the word "cougar," including Biderman's site, CougarLife.com. Biderman took it personally. "I genuinely felt like they were punishing us because we were also the Ashley Madison people," he says. A Google spokesperson wouldn't comment on specific advertisers but said, "Adult dating ads are classified as non-family safe meaning that they will not show on the Google Content Network or when Safe Search is enabled on Google.com." But in a departure from his usual modus operandi--a media blitz where Biderman plays the victim--Biderman didn't go anywhere near the press, instead letting a female spokesperson defend Cougar Life. He says Ashley Madison has rendered him too stigmatized to promote any of his other sites: "I am Cougar Life's worst enemy."
To get around the advertising restrictions, Biderman has a few tricks up his sleeve. He built a sort of backdoor to Cougar Life--the site DateMrsRobinson.com with the exact same framework for connecting older women with younger men. It doesn't have any of the "cougar" stigma, but it doesn't get much traffic, either. Biderman's other tactic involves controversial ruses which Kashmir Hill wrote about in a post on Forbes.com entitled "Ashley Madison: Lessons in Promoting a Sleazy Business." He places Ashley Madison testimonials and links on a slew of unrelated sites, and creates sites like AshleyMadisonScams.com that appear to discredit the company but instead promote it. To combat the search results alleging Ashley Madison is a scam, the company has "tons of content pages where we try to articulate the positive, and that helps to mitigate the noise," Biderman says. "My complainers are getting an unfair voice because of the way Google is indexing me."
* * *
This spring Biderman is planning to launch his seventh dating service, the Big and the Beautiful, connecting plus-size women with men who prefer their ladies large. Now he's mulling online or TV advertising, wondering whether companies will welcome the new service or be offended. Ironically, the services Biderman expected to be the most objectionable have gone over smoothly. The swinger site Swappernet, for example, has been well accepted. EstablishedMen.com, the site to hook young women up with "sugar daddies," which Biderman calls "one of the raciest spaces out there," hasn't had any trouble--although Biderman worries that drawing attention to it will make it a target. "The Facebooks and Googles and MSNs of the world seem to feel the need to be these bastions of morality," Biderman says. "I just find it hard to believe that we really want them making these decisions for us." Biderman swears the companies have no reason to be afraid of him. "What I can't do, whether you believe it or not, is convince anybody to have an affair," Biderman says. "I can run as many TV commercials as I want, but if a couple is truly in a good relationship, it doesn't matter what the hell I say to them--they're not going to have an affair." What he would like to do is take would-be adulterers out of arenas where unsuspecting singles can get caught, like Craigslist and Facebook, and point them to Ashley Madison. "'I'm saying, if you're going to make this decision, do it over here. This is the best playground for you," he says.
Ashley Madison, the original site that Biderman believes taints the reputation of his other properties, is doing better than all of them. The site gets 12 million visitors a month, Biderman says, and according to Alexa, which tracks website traffic, visits to AshleyMadison.com increased 25 percent over the last month. Match.com's traffic, which eclipses Ashley Madison's overall, increased just 0.2 percent. "Nothing grows like Ashley Madison," Biderman says. "Cougar Life's a great site, but Ashley Madison is massive. It's the Kleenex of cheating. I never thought it would be a viral brand because who the hell tells people they're cheating? But they tell people about Ashley Madison."
As much as he objects to the media companies' resistance to his business, Biderman chalks it up to the struggles men on the brink of great success often face. Biderman sees himself as a visionary, even tentatively likening himself to another sex industry pioneer, Hugh Hefner of Playboy. "In America, we're constantly having to rewrite history--who was a villain and who was a hero," he says. "Take Hugh Hefner: he had so many fights about trying to publish his magazine. Now, he's seen as this American icon who really stood up for a lot of different principles. I can't help but feel that there's going to be that same kind of judgment on Ashley Madison and myself."
Images: 1. Noel Biderman; 2. Screenshot from Facebook.