Apple Stops Selling MacBook Pros
Sort of. You can still buy a new MacBook Pro in Apple's online store, but a screenshot (shown below; click for a slightly enlarged version) captured by 9to5Mac's Seth Weintraub shows that the company doesn't have any available to ship for 3 to 5 business days. That's highly unusual for Apple, which often ships out new gadgets the same day that they're purchased. But it makes sense. Rumors have been circulating online for months that the MacBook Pro line is due for a refresh and MacRumors reported Friday evening that it would happen this coming Thursday.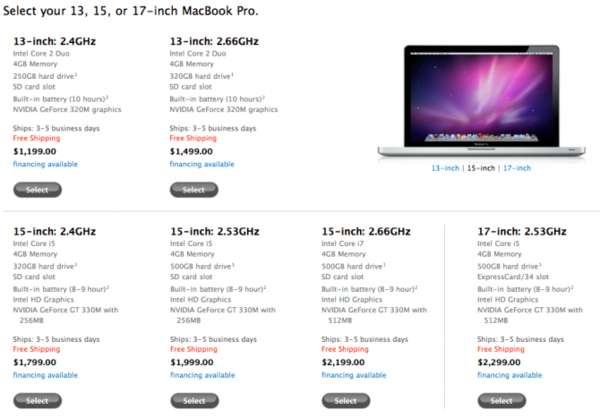 I'll be among the first to buy one of the new MacBook Pros when they're finally released. That's partially because my tax return it on its way and the laptops I'm currently using are getting a bit old (I'm something of a computer geek). But it's also because the new models are rumored to be pretty spectacular.
This is what we're talking about: lighter, thinner, longer-lasting batteries; fast Intel Sandy Bridge processors that are considered a huge improvement over the processors used beginning last year; moderate design changes (expect something that looks a bit more like the new MacBook Air line). All of these changes will be implemented across five new models (two 13-inch and two 15-inch laptops at similar prices to those currently on the market and one 17-inch model priced around $2,500).
Regardless of what the new models look and act like, Apple deserves some respect for stopping the sale of the current models when they're due to be outdated in the very near future. Purchasing electronics is a dangerous game; there's always a better, faster, newer, bigger, sleeker, smarter model on the way. Apple is under no obligation -- legal or otherwise -- to keep consumers from buying a product that will go from desirable to undesirable in a matter of days.