What To Take Away From Vanity Fair's Huffington Post Expose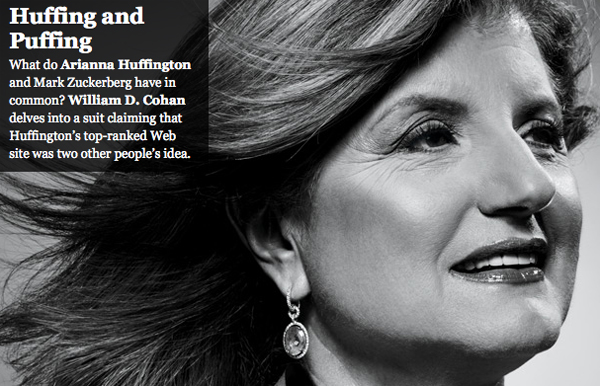 After an uncomfortable email back-and-forth with Arianna Huffington, the author and syndicated columnist who is now best known for running the site that takes her name, Peter Daou and James Boyce filed a lawsuit on November 15 alleging that their long-time friend stole the idea for the Huffington Post from them more than six years earlier.

On December 3, 2004, Huffington assembled a team of about 30 influential Hollywood insiders (Larry David, an investor in the site, and his wife; David Geffen; Norman Lear; Brian Grazer; and many others, all known and well-connected liberals) to lay out the plans for a Democratic response to the Drudge Report, which, Boyce says, was visited by 36 million people in the last 24 hours of the 2004 election that John Kerry lost to George Bush because of "around 100,000 voters in Ohio." If only the Democrats could rebuild the party from the outside in using a powerful Internet community, Boyce thought, they would be unstoppable. He drew up a 15-page plan for www.fourteensixty.com (named for the number of days from one presidential election to the next) with Daou.
Did Huffington steal the ideas in that document and use them to create her site, now valued at $350 million, with co-founder Kenneth Lerer? That's the question William D. Cohan claims to tackle in a high-profile "expose" in the February issue of Vanity Fair. It's an interesting read for anyone curious about one of the world's biggest websites -- 26 million unique visitors every month -- but it's a half-story. Huffington and Lerer have until January 19 to formally respond in court to the Daou and Boyce complaint. This battle isn't over.
In addition to Huffington, Lerer, Boyce, and Daou, there's a fifth player in this saga. The conservative blogger Andrew Breitbart. Daou told Cohan that a Wired profile earlier this month in which Breitbart asserts that he was the mastermind behind the website was the final straw, the last stab that pushed him to send that first email to Huffington that began, "As we hope you know, both of us value your friendship greatly."
Where do all of the players stand, in their own words?
Arianna Huffington: "I read your email," Huffington wrote to Boyce and Daou. "I must say, it left me speechless. Your suggestion, after nearly 6 years, that you understood all along that we were in a 'partnership' to create and operate the Huffington Post is stunning. And ridiculous. We never entered into any partnership or other agreement with you -- either written or oral -- concerning ownership of the Huffington Post. During all these years, you never shared in any financial obligation or risk relating to the Huffington Post. You never participated in any kind of management at the Huffington Post. You never shared in or asked for any financial or management information. Hardly a partnership."

Kenneth Lerer: Boyce claims Lerer did not say one word at the December 3, 2004, meeting and he declined to comment for Cohan's article.

Peter Daou: "I was reading about Breitbart. And I hit that part and I said, 'You know, damn, this is the last straw.' [Huffington and Lerer] had claimed credit before and every time it just burned. It was like 'Really? Are you completely erasing us from so essential a part as to how this whole thing came about?'"

James Boyce: "The idea was that it was going to be a Web site, and it was going to be a Democratic site. I really looked at it like a tool for the Democratic Party. This was going to be our Drudge. And we were going to do what Drudge did, but for the left."

Andrew Breitbart: "I drafted the plan. They followed the plan."

Aware that I was planning to write a post about the Vanity Fair story, Huffington Post's senior vice president of media relations, Marco Ruiz, sent me his response at 7:30 this morning.
It's a great story -- if you read it backwards.  At the end of the article, the writer takes apart Boyce and Daou's case piece by piece, leaving it in tatters -- and rendering everything that has come before it pointless.  The only question is, why, when the writer's own reporting makes it clear that there is no there there, Vanity Fair not only went ahead and published this nonstory but decided to promote it on the cover?  The proper response would have been to kill it.  And, as we've said before, it defies reason and human nature, if they really believed they had created the Huffington Post, that they would wait six years before speaking up.  At some point over the last 72 months, they would have contacted us to complain or asked us to credit them somewhere on the site or insisted on getting stock.  Something.  Anything!  But they didn't, because they know that they have absolutely no claim to ownership.

Responding to Ruiz, Vanity Fair's executive director of public relations, Beth Kseniak, sent me the following:

There's clearly a legitimate story there and William Cohan has written it.