Website Tracks Black-Market Prescription Drug Prices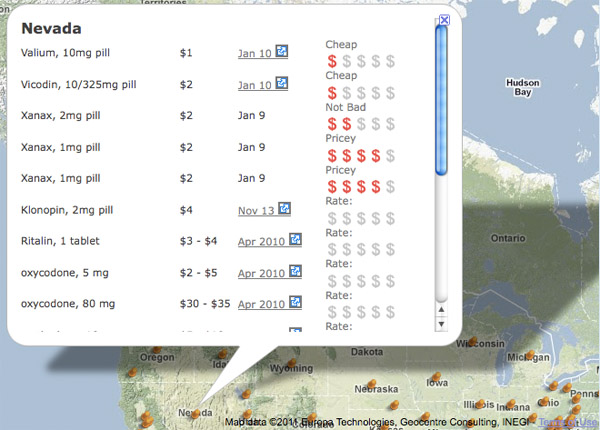 Ever wonder, "What's the street price of OxyContin in Nevada?"
No? Well, if you ever have, you're in luck. Turns out it's $2-5 for 5 milligrams of the narcotic, according to StreetRx.com. The newly launched site is an attempt to assemble and organize information about the price prescription drugs fetch on the black market. Some of the data comes from official government sources like the Drug Enforcement Agency, but users can add their own knowledge to the database, too.
It might seem unlikely that a site like this would take off. After all, what kind of drug user wants to submit this kind of information? It turns out there are plenty of smart shoppers out there, at least among those who buy marijuana. PriceofWeed.com gets dozens of submissions a day and is considered a good resource for basic information about how much an ounce goes for these days.
StreetRX is run by public health researchers who'd rather not be named. They're interested in this data because it could tell them important things about which prescription drugs are being abused. For example, pharmaceutical companies have been trying to develop "abuse-resistant" drug formulations. OxyContin was designed to provide pain relief over 12 hours, but off-label users realized they could crush it up and snort it for a faster, more intense high. So, an additive was put it in to try to disrupt that behavior. The abuse-resistant version of the drug was approved by the FDA last summer. How well will it work? A great test of its abuse-resistance would be to see if its street price is markedly lower than a standard OxyContin.
Though drug buyers discuss this type of price information n Internet forums, it's hard to analyze without the kind of standardized data structures that StreetRX provides.