Vanity Fair Prepares to Release Exposes on WikiLeaks, Huffington Post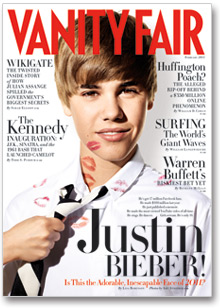 In order to tease readers about an upcoming Justin Bieber-covered issue of
Vanity Fair
, the magazine leaked its cover for February early. (Smart move: In less than 23 hours since it appeared online, a
short video that goes behind-the-scenes with Bieber's photo shoot
with Art Streiber racked up more than 27,000 likes on Facebook.) But the non-Bieber coverlines are what we're most interested in. Sometime starting at midnight tonight, VF will begin rolling out some of this new content online and we'll be waiting for two pieces, one on WikiLeaks and another on the Huffington Post.
Sarah Ellison, a former Wall Street Journal reporter who penned the definitive book on Rupert Murdoch's takeover of the paper, is responsible for the story on WikiLeaks. It will be "the twisted inside story of how Julian Assange spilled the government's biggest secrets," the cover promises, and is sure to be an addition to our collection of some of the best writing and thinking on the subject.
In the second story, William D. Cohan, who has previously written for Vanity Fair about investment banker Bruce Wasserstein and Larry Summers, goes inside the $350 million Huffington Post scandal. It's unclear from the coverline which direction the story will go in, but it's probably referencing a lawsuit filed a couple of months ago by two Democratic consultants who allege that Arianna Huffington stole the idea for her website from them several years ago. "Huffington called the charge of stolen ideas and broken deals 'a completely absurd, ludicrous supposition' from men whom she'd turned down for jobs on the site," Politico reported at the time.