The Tech Used to Help in Haiti's Earthquake Recovery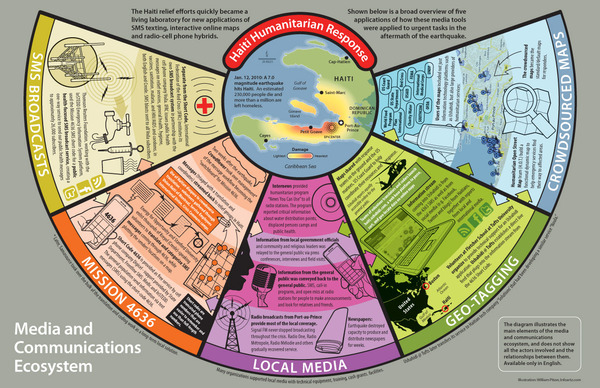 The Knight Foundation released a report today detailing how technology was employed in the aftermath of last year's earthquake in Haiti. The infographic above summarizes some of the key areas, but there's a full report available, too.
They left off one effort, though, that I was personally involved in creating: Haiti ReWired, a site dedicated to technology, infrastructure, and the future of Haiti. That community dazzled me. Using the social networking site Ning, people self-organized around a variety of topics and projects. For example, we were able to organize the crowdsourced translation and adaptation of an earthquake-resistant construction booklet for use in Haiti thanks to hard work of dozens of volunteers.
What the crisis in Haiti showed was that the tools we'd played with could be used to do real work in the world. SMS wasn't just for telling people about parties; it could be used to let first responders know where injured people were trapped. Crowdsourcing wasn't just for making t-shirts on Threadless; Haitians across the globe could come together to do difficult technical translations.
It's the work of Ushahidi and groups like them that should make us wary of those who would say that all Internet-organized social activity is frivolous. Because in one of the most humanitarian crises in recent memory, that just wasn't true. Of course, the technology didn't do the work on its own. It took real humans pulling the levers and doing the hard stuff. But the actions the technology enabled, though they could not mitigate all the horrors of that time, did help.