The Story Behind Last Night's Iconic Photo From the Egyptian Protests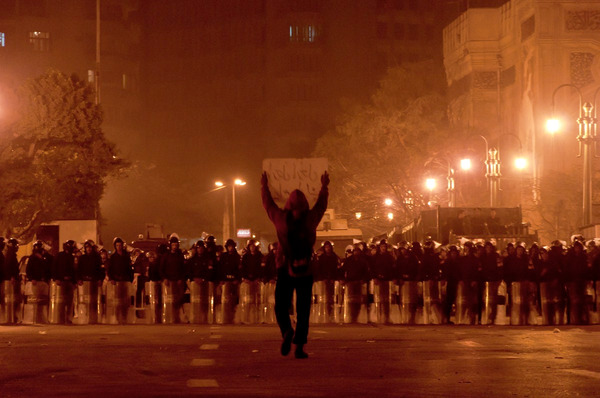 This gripping photo has been bouncing around the Internet today. If the protests of the last few days manage to extract meaningful reform from the Egyptian government, it could enter the pantheon of iconic protest images epitomized by Jeff Widener's tank man.
Apparently, it was shot by an Egyptian Reddit user named latenightcabdriving. He posted it to the social network about five hours ago, and it already has 1883 "upvotes."
In subsequent comments on the site, he provided some details about its provenance. Here are some of the best tidbits, including the photographic specifics:
I am not a journalist, just an amateur photographer.

[The protest] was mostly young people, but there were some old people as well. A woman that looked 60 was marching beside me from Gamet El Dowal street to Tahrir Square, almost two hours of walking and shouting.

The scene was absolutely wonderful last night in that square. The support of the people around you gives you so much strength and courage to do stuff like what this guy is doing. Morale was so high. People were constantly coming in with supplies of water, food, and blankets. I felt very proud of my fellow Egyptians.

Here's the metadata: 18-105mm lens @ 105mm, f/5.6, 1/13 second. I made a mistake earlier thinking it was ISO 1,600 (I am very disoriented from yesterday's events, since I have never participated in such a massive protest, and it was my first time with tear gas). This is actually shot at ISO 800. I shot everything else at 1,600, but for this one I sat down on the ground and gave the camera more support using my knee, which allowed me to lower the ISO a bit.
Though the point is fairly obvious, it should be made for posterity. The widespread availability of good digital cameras, the diffusion of the skills to operate them, and the networks to spread them as the protests are going on has given activists a potent new tactic. And as they did in Tunisia, protesters in Egypt are using those new capabilities to bolster their case at home and abroad.
No need to hope mainstream media shows up. No need to wait for tomorrow's papers. Everything can move quickly and though the Egyptian government has now blocked Facebook and Twitter, photos and videos are getting out. If there's one thing that we should have learned from the file-sharing wars, it's that the files will get out.