The Food Sputnik Inspired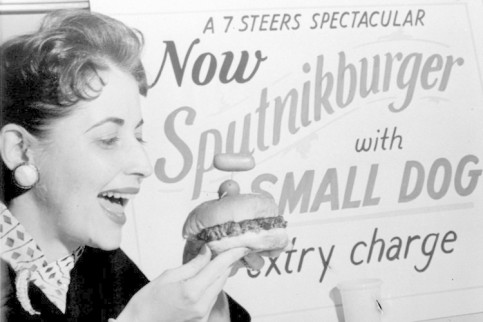 Space archaeologist Alice Gorman posted a fascinating article about the foods inspired by Sputnik, the Russian satellite widely credited with accelerating the space race. There were Sputnik hamburgers, Sputnik cocktails, and Sputnik finger foods. Making and eating them were a way to Americanize the accomplishment, Forman argues, making the Russian challenge seem less scary and foreign. This genre-bending post is part of GOOD Magazine's Nicola Twilley's new experiment in food journalism, which you can read all about.
The caption from this newspaper photograph reads: "Not to be outdone - Harriet Phydros samples a Sputnikburger which an Atlanta café rushed onto the menu. It's garnished with Russian dressing and caviar, topped by satellite olive and cocktail hotdog". The hot dog is a reference to Laika the dog, who went into orbit in Sputnik 2 later in 1957. Despite Laika's sad demise, the visual word play is appealing; but the "not to be outdone" requires further unpacking. Does this imply that Harriet's imminent consumption of the Sputnikburger will somehow restore the balance of power? Or that eating it is a small conquest of space in its own right? In any case, this potential weapon of mass destruction has become a commodity rather than a beacon of communist ideology. According to Lisa Parks, 'mainstream American culture commodified and domesticated Sputnik, positioning it within the discourse of American nationalism rather then leaving it to circle the earth on its own accord" (Parks 1995:16).
Read the full story at Space Age Archaeology.