The First Transcontinental Call Was Made Today in 1915
Ninety-six years ago today, a milestone was reached, yet its two endpoints have been forgotten over time.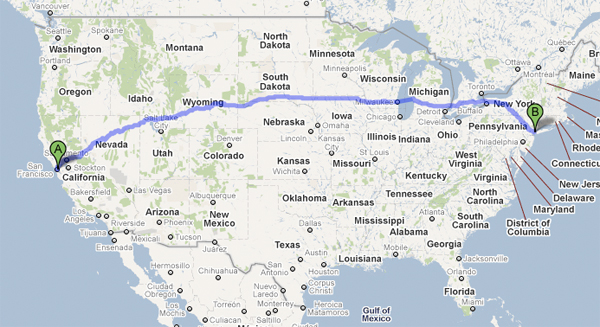 Ninety-six years ago, Alexander Graham Bell placed the first transcontinental phone call, ringing up Thomas A. Watson in San Francisco from New York. It was actually a reprisal of an earlier conversation the two men had, The New York Times reported back then:
On October 9, 1876, Alexander Graham Bell and Thomas A. Watson talked by telephone to each other over a two-mile wire stretched between Cambridge and Boston. It was the first wire conversation ever held. Yesterday afternoon the same two men talked by telephone to each other over a 3,400-mile wire between New York and San Francisco. Dr. Bell, the veteran inventor of the telephone, was in New York, and Mr. Watson, his former associate, was on the other side of the continent. They heard each other much more distinctly than they did in their first talk thirty-eight years ago.
According to Google, the trip from 15 Dey Street to 333 Grant Ave in San Francisco would take you 39 days walking. The phone was roughly instantaneous.
I got curious what's now installed in these two historic locations. Inside the 333 Grant building, there's now a Lulemon Athletica, a store which caters to yoga bunnies. It's next door to an American Apparel. In New York, whatever once stood at 15 Dey is now gone. In its place stands a Century 21 Department Store at 17 Dey. There is a Starbucks across the street.
Point being that technological history is not preserved the way that political and cultural history often are. Our important locations go unmarked, if they are remembered at all.
Bell, courtesy of the Library of Congress: