The Crimefighters of the Consumer Electronics Show
Two ex-cops, a secretary, and a pesky reporter under fluorescent light: what could go right?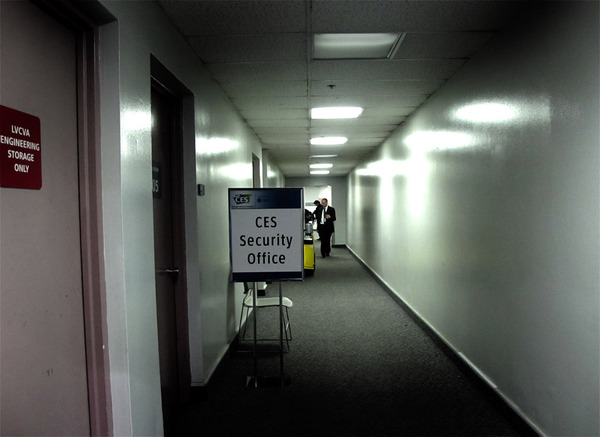 LAS VEGAS -- Two retired cops, one from New York, the other from Dallas, were sitting on a black faux-leather couch off a hallway of Central Hall. Both are men of a certain age. Bruce Powell, the Texan, has a glorious belly and moves like an old athlete, creaky but graceful. He calls the New Yorker, Artie Mahor, his partner. Artie, dapper in a surprising pink shirt, is the suspicious type, and he's not too sure he wants a reporter sniffing around the CES security apparatus. He would be the bad cop, at least from my perspective. In fact, he'll later tell me that he thinks "the press is a greater threat to the security of the United States than Osama bin Laden." And he tried to look me in the eye while he said it. But terrorists don't like to make eye contact, so I laughed into my shoes.
There's a woman in the room, too. Mrs. Davidson, I think I hear her called. She's the sweet, silent type and listens with admirable patience as the boys tell her stuff that it seems impossible she could care about.
They'd just finished lunch when I wandered into their midst and sat down. Powell was finishing up a Coke, which he got up to throw away. On his way back in, he let forth a tremendous belch, a and excused himself. "One Coke and look at me," he said. He struck me like a gentleman. Or at least he seemed gentle, with his nicely combed gray hair, hearing aids, and made-for-walking sneakers. You wanted him to be your grandpa and teach you how to fix a car or use a band saw. He now lives in Arkansas near the Crater of Diamonds State Park.
There'd been a third ex-cop in the room before. A guy by the name of Ron Duffy, who was one of the higher-ups in the Consumer Electronics Show security team. He'd been a Chicago beat cop, and took a joking (but real) pleasure in being the boss of Powell, who retired as a captain.
Duffy was cut from a different cloth from either of the other, too. His passion was drag racing, and he even brought out photos of his son's hotrod to prove it. He got his start in the part-time convention security business at the McCormick Place convention center in Chicago. He'd been helping guard CES shows for 17 years, since back in the days when the show was held twice a year, once in Chicago and once in Las Vegas.
The key to the job, he said, was to "try to create the atmosphere and perception -- perception! -- that Big Brother is watching." It didn't seem like there was too much crime or punishment going on at the show. In fact, Duffy, out of all those 17 years, couldn't think of a single war story, a single crime, or a single interesting incident. Mainly, he pointed out that doing hired-gun security work was a great way to make some coin in retirement.
He was about the equivalent of a captain, I'd reckon. He had a special go-cart in the hall to help him get around the show to meetings and such. It had his name written on it. There were three other guys like him, and then a security director above them. All the plainclothes security guys had been cops.
Duffy eventually had to run off to a meeting, and I was left with the two other ex-cops. We sat on opposite leather couches in the narrow room with Mrs. Davidson to my left behind a desk. Break time was over and they were readying themselves to head out and inspect the show floor.
I asked if I could come along, the equivalent of a ridealong or something. When Duffy'd been there, he hadn't seemed opposed, exactly, to my presence, but I'd noticed a creeping sense that I wasn't wanted. Mahor didn't like the look of me. Still, I pressed my request.
First, Mahor said if I tagged along all I'd see was them looking at people. Exactly! I said, perhaps a little too enthusiastically. "So I can come along?"
He eyed me. "Have you gotten this cleared?" he asked.
I felt my throat tighten a bit. I felt like he was about to shutdown my house party for not having the right permits. He'd used his cop magic on me.
"Well, no, I haven't run this by anyone, specifically," I said, silently stifling the urge to toss in a "sir."

"No?" he said. "Then you can't come. It's nothing personal."
There was a down beat. The two ex-cops, me, and Mrs. Davidson sat there quietly. Then Powell patted his big hands on his big knees, and pushed off from the couch.

"Ok, killer," he said.

"Truth, justice, and the American way," Mahor said. "Let's go fight some crime."