Protesters: Mark Zuckerberg Good, Ben Ali Evil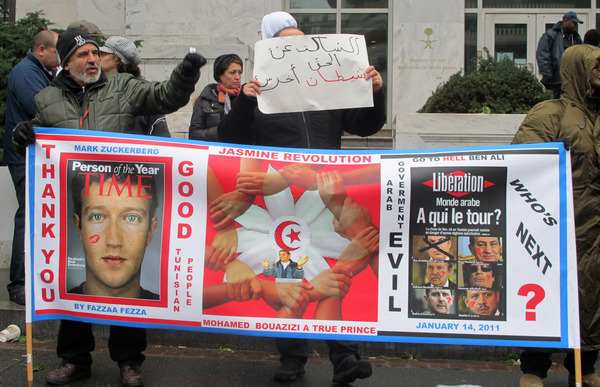 WASHINGTON -- In a rare juxtaposition, Facebook's Mark Zuckerberg made an appearance on a protest banner as the good opposing the evil of Zine El Abidine Ben Ali, Tunisia's recently deposed leader. Ben Ali fled for Saudi Arabia. Outside the Saudi Arabian embassy, this small group of protesters gathered to apply pressure on the country's government to arrest Ben Ali. They held signs and chanted slogans to the effect of "Stop Terrorists, Arrest Ben Ali."
Zuckerberg's inclusion appears to symbolize the role of social media in helping the Tunisian people organize themselves for the overthrow of the government. The cover was Photoshopped to include a lipstick kiss on Zuckerberg's cheek.