New, Weird Tech: The Washable Keyboard and Mouse
The waterproof keyboards, mouses, and remote controls you've always wanted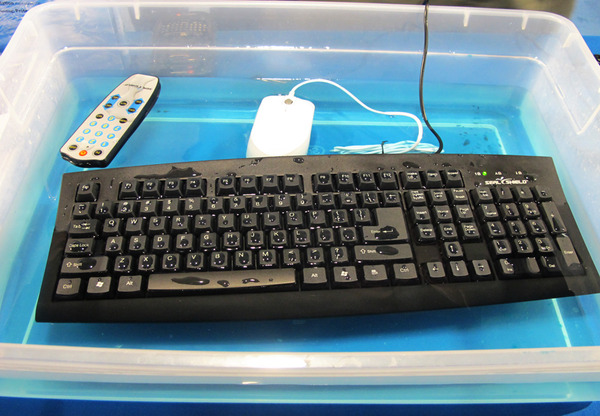 LAS VEGAS -- Let's be honest, keyboards are filthy. Even if you take pretty good care of your keys, you apply layer after layer of bacteria onto them every day.
SealShield
now claims they've got a solution: waterproof keyboards, mouses, and remote controls that are "dishwasher safe." Their demo here at the Consumer Electronics Show consisted solely of what you see in the photo above: these three accessories floating in water.
It seems designed solely for those with OCD leanings, but the sales guy at the booth made two interesting points as I attempted to snap this photo and run away.
First, he said, hospitals clean everything but they can't clean a standard keyboard and mouse. Second, he told me that hospitals actually use a ton of remote controls because they get tangled up in the bedsheets and end up getting laundered and destroyed.
I'm not sure if the latter is true, but it reminds me what a weird business hoteling really is. If you're a big Vegas hotel owner, you have to optimize everything from the number of towels you supply to the frequency that you lose remote controls in the bedsheets.
Read more of our coverage of CES.