Jay Rosen on Wikipedia's 10th Anniversary
People who study online life are familiar with the One Percent Rule. It says that if 100 people gather at a given site, about 10 percent will contribute anything at all, even a comment at a blog post, and less than one percent will become deeply engaged as a regular contributor. The rest will just use the service. There are two ways to come at that finding. One is to sneer at utopian projections like "everyone's an author now." And the One Percent Rule does, in fact, crash those illusions. It's a double espresso of digital realism. Wakes you up fast.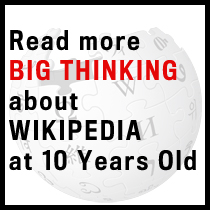 A different way to think about it is to do a little math. Today,
nytimes.com
draws in the neighborhood of 18 million unique visitors per month. They tend to be educated, informed, curious about the world. According to the One Percent Rule, about 180,000 of them would become serious contributors -- if given a proper chance. As the
Times
tries to make its way in the new economy of news, it has no choice but to think about how to tap into that massive group, which is many times larger than the entire American press corps.
Think of it this way: If the number one asset the Times has is its brand and reputation, and number two is the talent and experience of its professional staff, the third most important asset is, in fact, the knowledge and sophistication of its users and especially the 180,000, the one percent.  But how to get some of that knowledge flowing in, so as to make from it high quality editorial goods for the remaining 99 percent? This is a strategic puzzle for the New York Times. I believe they're aware of it. Now in that puzzle, the single best place to turn for how something like that can be done is Wikipedia, which still calls itself "the free encyclopedia that anyone can edit."
"Anyone can" doesn't mean "everyone will." Almost everyone won't. But even then something great and powerful can be built. That's what Wikpedia teaches us about organizing people online.