How a Twitter Meme Takes Off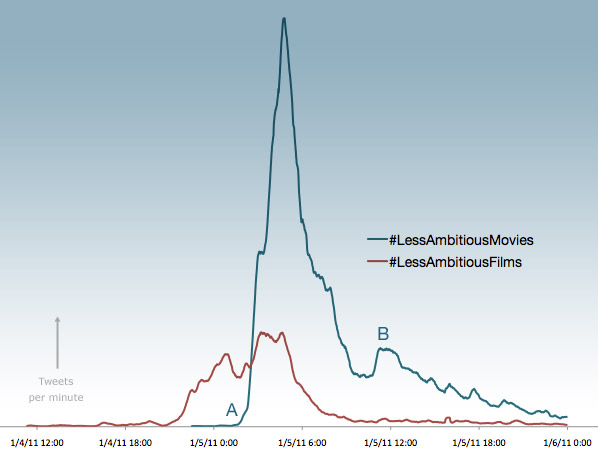 It's hard to know exactly why certain memes take off on Twitter. The innards of the global Twitter brain are complex and sometimes sure thing hashtags (or links) go nowhere.
A few days ago, the hashtag #lessambitiousmovies took off. Now, Twitter's Robin Sloan has dissected exactly what happened. It turns out I played a small role -- retweeting Lizz Winstead's "Breakfast at Zales" tweet -- but the general analysis is what's really interesting. What we can see here is the mechanics of Twitter virality. I'll let Sloan explain:
There's a lesson lurking here, but to see it, you need to scroll back up and look at the point marked "B" around midday GMT on January 5. The little bump you see there happens when Katy Perry retweets a #LessAmbitiousMovies Tweet. Now, it's pretty amazing to see a single account cause an inflection point like that. But notice that even with 5.2 million followers, Katy Perry didn't send #LessAmbitiousMovies into orbit again.

No: there was something special about the people who follow Lizz Winstead and Barracks O'Bama. There were fewer than 35,000 of them, but they were more attentive and more engaged -- and maybe just funnier, too? -- and it was their collective creativity that made #LessAmbitiousMovies briefly ubiquitous.

So add this finding to your hashtag playbook: getting a great hashtag in front of the right audience is more important than getting it in front of a big audience. Katy Perry's 5.2 million followers saw #LessAmbitiousMovies, laughed, and moved on. Lizz Winstead and Barracks O'Bama's crew of 35,000 saw it -- and they made it their own.
Image: A graph of hashtag velocity.