Google Begins Testing Display Ads in Gmail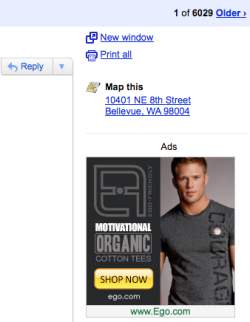 Greg Sterling, a contributing editor at
Search Engine Land
and regular Gmail user, noticed something strange this morning. "Google appears to be testing display ads in Gmail," he wrote in a blog post. "I have not spoken to anyone at the company but discovered the following image ad in my own Gmail account this morning." (See the image at right.)
This has been a long time coming. Gmail is part of the Google Display Network, which also includes YouTube, Google Finance, Google Books, Google Maps, Blogger, and other properties. The Google Display Network is an advertising network set up by Google last year to grow the search giant's share of advertising money being spent on online visuals, which was described by Google VP Neal Mohan this past July as a $20 billion market. "Display is truly at a tipping point," Mohan said, according to AdAge. "We think it can be substantially larger than the $20 billion it is today, whether [it's] $40 billion, $60 billion, or $80 billion, but there are a lot of challenges that remain."
One of those challenges is getting users to accept -- and interact with -- eye-catching advertising that can be distracting when going through email messages. The colors and visuals can demand your attention in a way that traditional text advertisements can't. And lets not forget how much Google already knows about you; these new display ads can be incredibly targeted. The ad shown in Sterling's inbox, for example, popped up after he opened a message from a clothing retailer.
Has anybody else started seeing display ads while browsing through emails?