Craig Newmark on Wikipedia's 10th Anniversary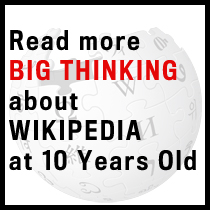 Wikipedia is the history of our times, where people work together, doing their best to write the truest versions of human knowledge.
It's an ongoing effort with a successful balance of professional and citizen curators, writers, and fact checkers. This has proven increasingly effective, not only in producing material, but in getting it corrected, and then learning how to improve quality. That is, any public communications is flawed, but the Wikipedians do outstanding work in producing material, and then in improving the processes as needed.