Could the Chevy Volt Really Help Reduce Global Warming?
Accolades keep pouring in for the Chevy Volt, the electric car darling of the 2011 Detroit auto show, including the show's North American Car of the Year award this week from a jury of swooning auto journalists. In his corny acceptance speech, General Motors vice-chairman Tom Stephens' thanked "all of the jurors who Volted, or voted, for the Chevrolet Volt," a plug-in electric hybrid with gas backup. Its all-electric rival, the Nissan Leaf, was a runner-up.
But public acceptance, pricier sticker numbers, charging challenges, and a willingness to break old driving habits (goodbye to pedal to the metal) will determine whether the Volt and its brethren actually electrify (sorry, couldn't resist) the auto marketplace -- and ultimately improve the environment -- or fall short of current industry and media hype.
The image of these electric vehicles has gone from geeky to sexy with surprising speed, as a recent Atlantic Wire column, "Are American Cars Cool Again?," pointed out. They are on the cutting edge of several promising new clean car and truck technologies with the potential to substantially reduce oil consumption, drive down air pollution and greenhouse gas emissions, and help curb climate change in the decades to come. But first Americans have to start buying them and successors to come, and the public and private sector need to buy in as well.
A new study, released Tuesday by the non-partisan Pew Center on Global Climate Change, provides a roadmap for lowering overall transportation emissions in the decades ahead. One important part of the equation is the degree to which technological advances, supported by the public and private sector, will promote more fuel-efficient, less gas-hungry vehicles that consumers are eager to buy.
Transportation accounts for a big chunk of all U.S. greenhouse gas emissions today -- more than one-fourth of the total, with cars and light trucks accounting for the biggest portion -- and is projected to continue its growth. The study contends that "it is possible to cut greenhouse gas emissions from the transportation sector cost-effectively by up to 65 percent below 2010 levels by 2050 by improving vehicle efficiency, shifting to less carbon intensive fuels, changing travel behavior, and operating more efficiently."
The Pew report outlines three possible scenarios for reducing overall transportation-related greenhouse gas emissions by 2050 -- a projected drop of 17 percent on the low-end, a mid-ground of about 40 percent, and an ambitious 65 percent reduction goal. The most optimistic scenario would likely require more government action than currently seems achievable, given the climate change gridlock in Washington. But clean energy crosses party lines and support for increased public and private policies to push the transportation technology envelope toward more environmentally friendly options seems increasingly more palatable.
Which brings us back to that cool, clean, green Chevy Volt.
"The amount of attention in the press to electric vehicles is great," said transportation expert Steven Plotkin of the Argonne National Laboratory, who co-authored the new Pew report with David Greene of the University of Tennessee's Howard H. Baker, Jr. Center for Public Policy. "We'll see if the public is as enthusiastic as we hope them to be.... It's much too early to tell."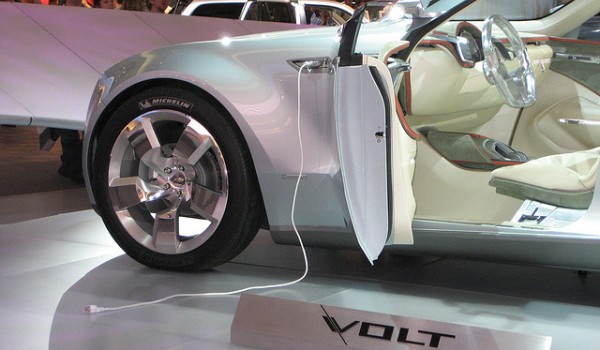 A new transportation fuel mix, including electricity, hydrogen fuel cells, and biofuels, is expected to play a far more significant role in powering greener passenger cars in the future, said Plotkin. The report notes that "electricity has recently reappeared as a strong contender, thanks to the development of lithium-ion batteries and plug-in electric hybrid vehicles" with electric ranges of up to 40 miles that can then shift to gasoline operation when the battery runs out. The all-electric Leaf, however, has a maximum range of about 100 miles per battery charge.
But novel vehicles will have to become more cost-competitive to compete with a growing fleet of highly efficient gasoline vehicles, he said in a teleconference with reporters. In the meantime, early adopters of electric cars -- the first Volts and Leafs shipped last month -- will need to lead the way and be willing to pay more for some of these expensive forerunners, while coping with the challenges of charging, driving range and battery life. Hopefully, increasing numbers of electric cars could gradually drive down prices and increase demand for commercial charging stations, while potential battery improvements could continue to increase electric cars' driving ranges, noted Plotkin.
The new 122-page Pew Report is loaded with important details about how we could get from here to there in cutting back transportation greenhouse gas emissions, including important caveats such as the need for cleaner electricity generation at the source (lowering carbon emissions at coal-fired plants), said Pew Center president Eileen Claussen. And, of course, cars and light trucks, accounting for nearly three-fifths of transportation emissions, are only one part of the personal and commercial transportation puzzle.
Nonetheless, how Americans choose to drive in years to come will be one concrete measure of their individual willingness to reduce dependence on foreign oil and greenhouse gas emissions. The report notes that, currently, the average fuel economy of all new cars and light trucks is 26 miles per gallon (mpg) by EPA certification tests and in the low 20s on the road. Existing standards require that this average rise to about 35 mpg (29 on road) in 2016, a 35 percent jump.
The Pew authors conclude that by 2035 a new midsize car with a conventional drivetrain might get about 50 mpg on-road and those with hybrid-electric drivetrains roughly 75 mpg on-road (assuming new standards or market pressures continue to accelerate vehicle design and fuel efficiency improvements). Of course it takes longer to replace the older cars on the road. Even so, they say that the light vehicle fleet could perhaps attain an on-road fuel economy in the 35 to 40 mpg range by 2035 and 45 to 60 mpg by 2050 (much higher than the 21 mpg of today's on-road fleet or more conservative government projections of about 30 mpg for 2035).
This dizzying array of numbers and options bears further examination by transportation mavens. The report also cautions that "past attempts to bring new fuels and new technologies into the U.S. marketplace have largely failed." But could this time be different? With gas prices rising again, will 2011 emerge as the breakout year for the electric car?
My mind keeps wandering back to those snazzy pictures of the new Chevy Volt. I usually don't care about new car reviews, but I must admit to a growing fascination with the electric car ads and the rave reviews. I already drive a hybrid (and, ok, I do drive a bit like a little old lady to keep in the eco zone). But I just might be tempted to take a Volt for a spin. Then there's the Leaf and that just-announced 2012 Ford Focus Electric scheduled to come out later this year. Now, let's see, what colors do they come in?
Image: Chevy Volt concept at the 2007 Detroit Auto Show, NAParish/Flickr.