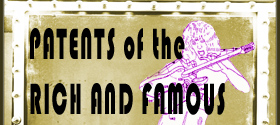 Some celebrities aren't just pretty faces. A few of them are also touched with that Yankee prowess for tinkering and invention. In this weekly series, we introduce you to the Patents of the Rich and Famous. And maybe you learn a little bit about how patent literature works along the way.
Inventor: Paul Winchell
Known For: An actor recognized more for his voice than his face, Paul Winchell rose to fame as a ventriloquist. He had two popular dummy pals, Jerry Mahoney and Knucklehead Smiff, with whom he performed. In a 1954 interview Winchell admitted he didn't enjoy sharing his spotlight:
Gradually I found myself faced with the dilemma that comes to most ventriloquists. I was snowed under by the personality of the dummy. Mail began to pour in to 'Paul Mahoney' and 'Jerry Winchell.' I was Jerry's straight man.

Everybody knew who Jerry was, but they were beginning to forget the name of the guy who operated him. To that extent it was jealousy.
Here's Winchell performing with Mahoney:
After Winchell's career as a ventriloquist ended he continued putting his voice to good use, voicing Tigger in Disney's Winnie the Pooh and the evil sorcerer Gargamel and Baby Smurf in the Smurfs.
He holds over thirty patents.
Invented Apparatus: "Artificial heart"
We already unearthed the world's first artificial heart transplanted inside a human body, but Winchell holds the patent for one of the first artificial heart devices ever made, which he developed with surgeons working at the University of Utah. They created a non-toxic device that Winchell hoped could replace a failing heart for a working organ.