Bruce Sterling on Wikipedia's 10th Anniversary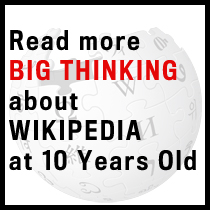 *I'm quite the Wikipedia fan, but I worry about their frailty. It's alarming to see them begging in public lately, and they've never been subjected to the kind of focused assault that, say, Wikileaks got. Even though there's no doubt that Wikipedia articles irritate any number of people -- regimes, crooks, political movements, ticked-off anonymous lynch mobs, etc. Warm, kindly, humane Wikipedia didn't grow up in today's Internet. Now it's like a hothouse orchid the size of a barn.
*People sometimes figured that, since Wikipedia entries were all crowdsourced and public and resilient and such, they'd be strong like the Internet is strong. It's a bit more plausible to say that they're strong like a big sprawling semilegal favela is strong. A favela where a rather road-worn and weary Jimmy Wales has to be an unelected mayor, because nobody's ever invented effective economic and institutional support for the enterprise.
*If Wikipedia pulled a MySpace and started dwindling away, who could save them? And who could ever build another one?