Apple Quietly Tweaks Policy on iPhone Water Damage
Apple has a history of being incredibly strict when it comes to water damage. A small feature known as a Liquid Contact Indicator (LCI) is placed on all Apple devices and lets clerks and other Apple Authorized Service Providers (AASP) know with only a quick glance whether or not an iPod, for example, is malfunctioning because it was dropped into a toilet.
It was rumored as far back as November that Apple had amended its stance on water damage, but it hadn't been confirmed. Perhaps the company was worried that every careless iPod owner would flood the Genius Bars around the country looking for free replacements. A page leaked by an AASP confirms the rumors: "Apple has amended its stance on water damage to iPods," 9to5 Mac reported. "As you can see below, Apple will allow some leeway in water damage, even if the red indicator has been triggered, so long as no corrosion is present."
On the same forums where the rumors first spread, Apple owners complained that high humidity and other factors could trigger the LCI. As the report below notes, Apple refuses to concede that the company's LCI's are faulty -- "Note: LCI's are designed not to be activated by temperature or humidity that are within the product's operating requirements described by Apple." -- but at least the company is erring on the side of caution and opening up more products to warranty replacement.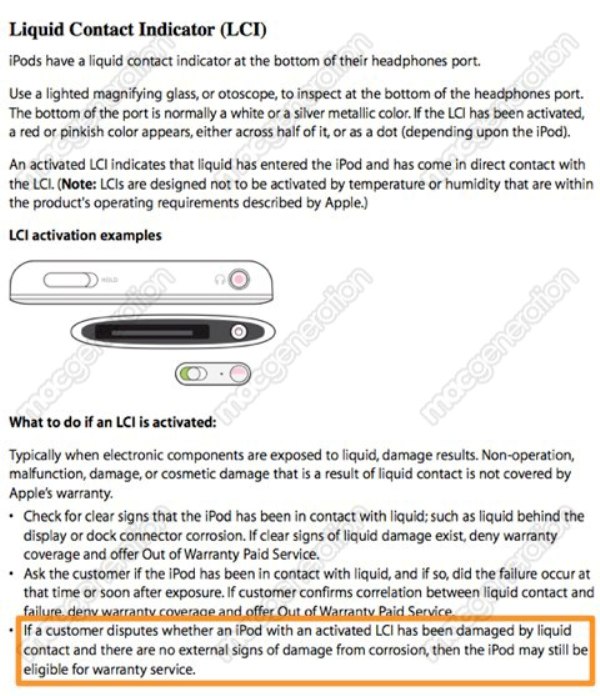 Image: MacGeneration.