A Brief, Working History of Book Production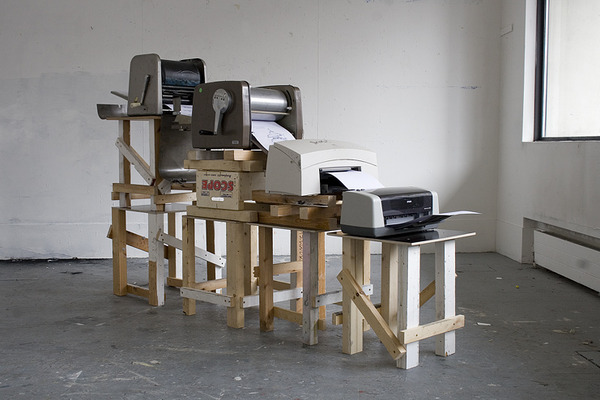 Now this is my type of art installation. Xaxier Antin hooked four different printers together, each applying one color to collectively print a book. An 1880 stencil duplicator applied magenta, a 1923 spirit duplicator slapped on cyan, a 1969 laser printer dropped in the black, and a 1976 inkjet printer supplied yellow.
The machines came from almost 100 years apart, but worked together to produce an artifact. It all reminds me that our old and new technologies work together, nails and cranes, fire and electricity, cell phones and fingerless gloves.
A book printed through a printing chain made of four desktop printers using four different colors and technologies dated from 1880 to 1976. A production process that brings together small scale and large scale production, two sides of the same history.
Read the full story at Xavier Antin.
Via BoingBoing.