Your Photos of the Lunar Eclipse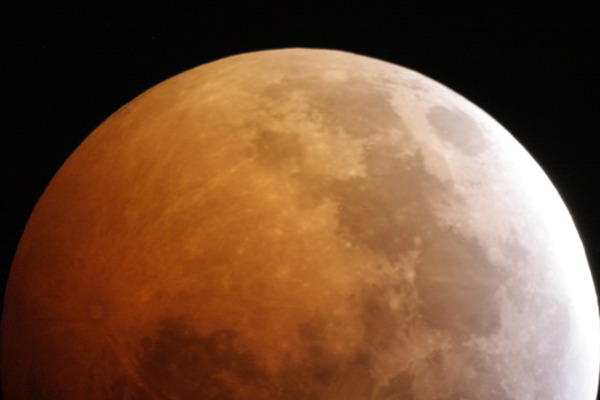 When my alarm went off at 3 AM this morning, I had a moment of disorientation. What day is it? Why is my phone making noises in the middle of the night? Where am I?
Oh, yes, I remembered. I was on the Planet Earth, and our globe was passing in front of the sun, shadowing our moon to create a lunar eclipse. Right.
So, my girlfriend and I got up, pulled on the warmest clothes we could find in the dark and stumbled out onto the front steps. Looking up and to the west, we saw the moon hanging up there, ruddy as we'd been led to believe it would be. It didn't really look like the moon. Instead, as my girlfriend put it, it was like we were staring up at a different planet.
At a time when the discovery of increasingly earth-like planets around other stars lets us imagine what it might be like to orbit some other star, but our rockets aren't powerful enough to catapult there, that rare copper coin of a moon might be the best simulation of standing on another planet that any of us are going to get.
And that was the best part of seeing the lunar eclipse. For a minute, you were reminded that there was a solar system -- and that system conspires to make the moon look exactly like it does on every other day of the year. But change the conditions a bit and suddenly the moon looks radically different and the experience of looking up into the sky is transformed.
Several of you sent in photos of your experience. The top picture comes from Thomas Loupe, who has been doing astrophotography for a couple of years now. He used a Canon Rebel XSi DSLR with a Celestron Nexstar 8SE computerized telescope.
If you didn't have all that stuff, and you just went outside with your Canon G11, say, this is what you could do: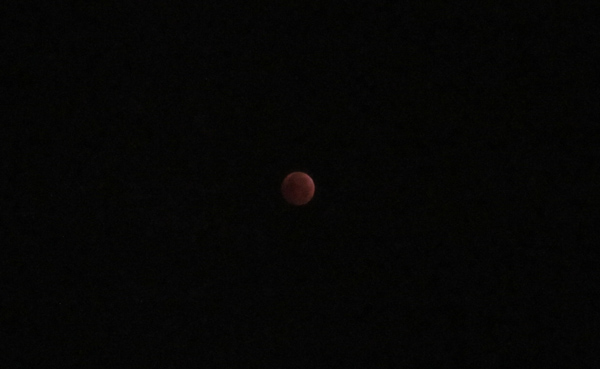 That's my photo and I actually think it reasonably approximates what it was like to look with the naked eye in a big city.
Finally, here's a good in-between shot by MIT Media Lab student Phil Salesses. I'm not sure what gear he used, but the photo looks great.