Wikileaks May Not Be Trending on Twitter, but 'Assange Arrested' Is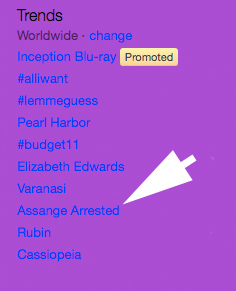 Following
days of speculation
that Twitter was somehow keeping Wikileaks and/or Cablegate off the site's "trending topics" list, a Wikileaks-related keyword has, in fact, popped up.
After Julian Assange was arrested by British police as a result of a sexual assault charge in Sweden, "Assange Arrested" made the worldwide trending topics list and remains there as of 12:13pm Eastern. (More on the arrest here.) It's not the most flattering mention, but is certainly related to Wikileaks.
So, why aren't the other keywords -- Wikileaks and Cablegate -- making the list, despite heavy Tweet volumes? Twitter spokesman Matt Graves issued a flat denial that Twitter is censoring their trending topics list. And to my mind, it doesn't make much sense to do so. The downside is high -- angering many of their users -- while the upside is, well, really inconsequential.
Here's Graves explanation of why Twitter's algorithm is selecting against the keywords:

"Trends list is designed to help people discover the 'most breaking' breaking news from across the world, in real-time," Graves wrote in an email to reporters. "The list is generated by an algorithm that identifies topics that are being talked about more right now than they were previously."

To translate: Wikileaks has been talked about a lot already; it's not gaining in popularity, even if it remains popular. Much like Justin Bieber tweets, #wikileaks no longer is "breaking news" according to Twitter's algorithm. What we've learned about Twitter's trending topics is that it is a novelty meter, not a popularity meter.

The Twitter censor speculation was fueled by the company's previous interactions with the State Department. State reached out to the service during the protests surrounding Iranian elections last year. Twitter co-founder Jack Dorsey also went on a State Department sponsored trip to Iraq.
So, there's some smoke, but that's all it is. At least at this point, there doesn't appear to be a fire.