Why Groupon Is Worth $6 Billion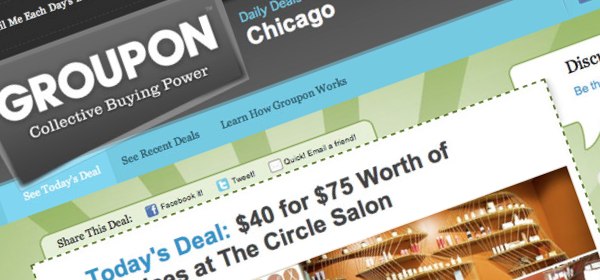 Over the past week, rumors that Google had put in a bid to purchase Groupon, a popular deal-of-the-day site, reached a saturation point. Everyone, it seems, weighed in. First, the rumor was that the search giant had shelled out $2.5 billion. New reports suggest that number is probably closer to $5.3 billion with an additional $700 million earnout, making this -- by far -- Google's biggest acquisition ever. And it's a smart buy.
Just two years old, Groupon has built a huge following around a very simple idea: one really good deal every day in every major city. (Today, in Washington, D.C., the deal is $20 for three Bohemian Belly Dance classes, which would normally cost $60.) The fine print: Buyers aren't charged -- and the deal isn't "on" -- unless a critical mass of people sign up. That way, the company or organization being promoted that day is guaranteed to bring in enough new customers to make steeply discounted deals worthwhile.
That model -- offering only one deal per day -- made some question whether a $6 billion valuation on the company was (way) too high. But with that model Groupon is bringing in a reported $50 million a month in revenue, according to CNBC. Other reports dispute that number -- maybe it's closer to $20 million -- but that doesn't matter. What matters is that the model has proven itself. And now Groupon is expanding.
One deal per day per city has a very restricting limit: one deal per day per city. But Groupon is rolling out Groupon Stores, a way for store owners to set up and run a virtual space that partners with Groupon to offer as many deals as they want. A new Deal Feed will present a custom stream of offers to registered Groupon users that brings together the signature daily deal, deals from any shops that user decides to follow, and recommended deals put together by a new Groupon algorithm.
"We originally designed Groupon to account for the constraints of being a small company. Since we didn't have any merchant relationships, we limited ourselves to one deal per day," Groupon explained in a blog post highlighting its expansion plans yesterday. "Today things are different -- our biggest problem is that demand is so high, merchants often wait months to be featured." The expansion is sure to grow Groupon's revenue exponentially.
Writing on Mashable yesterday, Ben Parr argued that the acquisition would be a smart one for Google for another reason: local advertisers. "Through its massive sales team, Groupon has built an impressive array of relationships with thousands of restaurants, spas and local businesses in hundreds of metropolitan areas," Parr wrote. "It's a market that Foursquare, Facebook and Yelp all target, but none of them has figured out the formula like Groupon."
And it's a market that has a lot of potential. We've seen a number of big media companies -- the ones Parr mentions, but also, notably, AOL through Patch, its effort to launch hundreds of hyperlocal news websites across the country -- scrambling to pick up local advertisers. There's a lot of advertising money that once went to small town newspapers that is no longer being spent on print waiting for someone to come and snatch it.
Groupon's board of directors will meet today by conference call, according to a report this morning from the Wall Street Journal, to discuss the offer. They may or may not vote, but, regardless, it's a given that we'll have an official word sometime soon.