Use Social Media to Escape Snowmageddon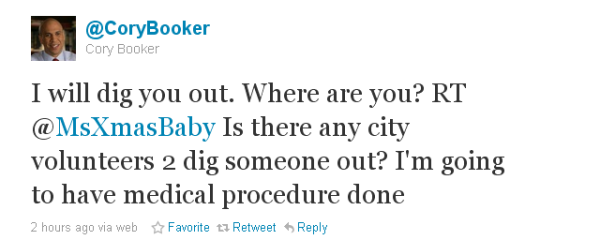 Cory Booker, the Mayor of Newark, New Jersey, has a sore back. He's spent the past two days using Twitter to connect with residents of his city that were trapped by the recent snowstorm. After he finds the ones that are in serious need of help, he goes over and digs them out himself. He's also used the service to turn his constituents into a team of informants spread across the city, finding the streets that are in dire need of a plow.
If the mayor of your own city is less accessible, there are other options for finding help using social media.
Ushahidi, a crowdmapping tool that was developed to track elections in Kenya and was used to coordinate emergency aid operations in Haiti after the devastating earthquake, has been incorporated into two helpful sites focused around Boston and New York City. Built by PicNet and Non-Profit Soapbox, two development companies that build websites for non-profits, the Snowmageddon Clean Up sites offer a simple way for individuals to seek or offer help around a number of different categories that range from "snowblower available" to "plows needed." The site allows users seeking help to include time, location, and a description of the problems they face.
As of this writing, 89 reports have been filed on the Snowmageddon page for New York City. The most recent are for a bus stuck on Fourth Avenue between 85th and 86th Streets in Bay Ridge and a van stuck in the middle of the road on Quincy Street that is blocking potential plows.
Ryan Ozimek, the CEO of PicNet, used Ushahidi last year in a special partnership with the Washington Post to develop a similar tool. "Once the Washington Post contacted us to partner on the effort, we were happy to be of service, especially since the real value of the tool is delivered when larger communities have access to it," Ozimek wrote in a comment this past February on a blog post about that partnership.
As more media outlets recognize the Snowmageddon site, the number of filed reports appears to be increasing. With more users visiting the service, the potential grows for finding help from nearby residents with the necessary tools to help you escape the snow.