The Decline of Man (as a Word)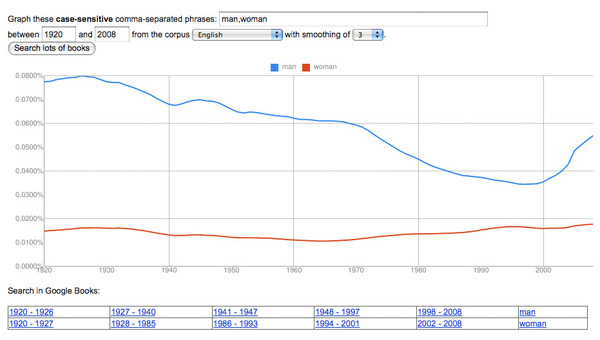 Allow me to introduce you to a most excellent time-wasting tool. It's called the Books Ngram Viewer, and it allows you to track the plot of words and phrases through time. The service draws on the absolutely massive Google Books corpus. Google estimates they've scanned and OCR'd more than 10 percent of all the books ever published, and they use (as Ed Yong pointed out in the comments) about a third of the total books in the tool. So, perhaps this isn't a perfect tool for research, but man is it fun to play with.
Thanks to Tim Maly for pointing it out to me and generating what must be the most poignant word graph ever made.
If you come up with other great combinations (like dude vs bro or eat, pray, love), post them in the comments or email me and we'll collect them up for your enjoyment.