The 12 Best/Worst Memes of 2010
Behind every great meme, there is the another meme that is the exact same, and it is terrible. So, here are our favorite memes of 2010, which we also hated. We present them context-free to honor the genre.
1. Old Spice Guy
Catchphrase: "I'm on a horse."
2. Double Rainbow
Catchphrase: "WHAT DOES IT MEAN?"
3. Bed Intruder
Catchphrase: "Hide your kids, hide your wife"
4. Sad Keanu
Catchphrase: This was more of a strong and silent meme.
5. This is a Big Fucking Deal
Catchphrase: "This is a big fucking deal."
6. Xtranormal's Animated Bears (especially this video)
Catchphrase: "It.Is.The.Best.Phone."
7. Insane Clown Posse's song Miracles
Catchphrase: "Fucking magnets, how do they work?"
8. Crying Don Draper
Catchphrase: ...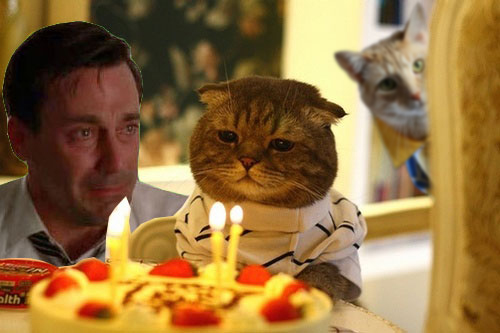 9. The Vuvuzela
Catchphrase: BZZZZZZZZZZZZZZZZZZZZZZZZZZZZZ
10. The Rent Is Too Damn High
Catchphrase: "As a karate expert, I will not talk about anyone up here."
11. Demon Sheep
Catchphrase: Sheep can't talk, not even demon sheep.
12. General Larry Platt's Pants on the Ground
.>Catchphrase: "Pants on the ground"
.>
.>