TED Speakers Imagine a World Controlled by Women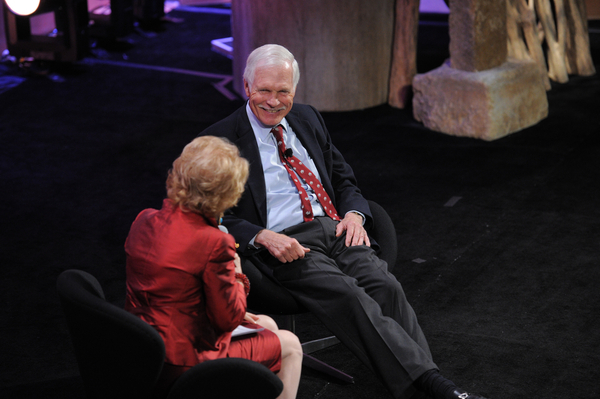 WASHINGTON, D.C. -- As difficulties surrounding the Strategic Arms Reduction Treaty (START) continue to play well in the news, media icon Ted Turner used the stage at TEDWomen this afternoon to push an old hobbyhorse of his: nuclear arms reduction.
"If only women were elected to public office" -- let men continue to do everything else: run the businesses and the media -- "we'd have a much safer and better society in a short time," Turner said. His practiced soundbites were greeted by significant cheers and applause. "We wouldn't be building aircraft carriers and submarines, which are no good for anything anyway; we'd be putting money into healthcare."
TEDWomen, a first-of-its-kind conference hosted by TED, brought 70 speakers and performers to Washington to discuss women's issues. The driving force behind TED is the belief that everyone has an idea worth spreading and the conference, as a result, was filled with thought-provoking quick hits. Turner's short interview with co-producer Pat Mitchell was an outlier, an old idea worth spreading.
And his responses were echoed as the day wore on. "Certainly a woman is not going to spend her money buying guns," confirmed President Ellen Johnson Sirleaf of Liberia, the only elected female head of state in Africa, in a separate interview with Mitchell. "I think a world where half of our countries are run by women ... would be a better world," said Sheryl Sandberg, COO of Facebook, during a presentation about how "women are not making it to the top of any profession anywhere in the world."
But would women use power differently than men? Mitchell posed the question to Turner, citing Margaret Thatcher as an example of one female leader who, arguably, wasn't so different than the norm. Turner refused to answer for everybody, but he argued that women are more nurturing because they bear children. And without all of that testosterone, he said, they are less competitive. As the man who gave $1 billion to start the United Nations Foundation, which works to reduce child mortality and empower women and girls, Turner had the room at attention.
"Look, we have to play by the same rules," he said, returning to his cause. "The United States, with 2,000 nuclear weapons can't look at Iran with a straight face and say, 'You can't have three.'" With more speakers waiting in the wings, Turner didn't have time to talk about how it is we might get more women into leadership roles. But as the talks kept coming, visitors grew more convinced we would.
"We're going to get rid of [nuclear weapons] and we're going to do it in my lifetime," Turner said, "because I want to be here to celebrate."
Image: Ted Turner speaks during Session 1: Overture, Tuesday, Dec. 7, 2010, at TEDWomen, Washington, DC. Photo: James Duncan Davidson/TED.