Solving the Roadkill Problem With Wildlife Bridges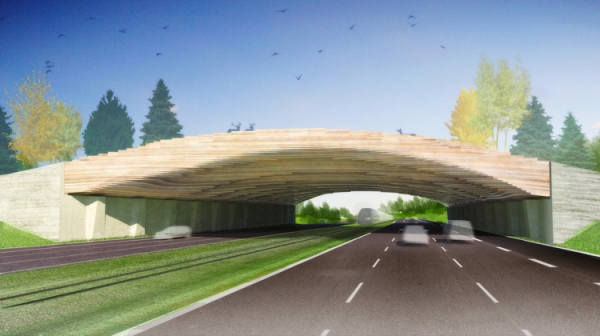 Gaining popularity over the past few years, wildlife bridges are now being reimagined by professional design and landscape architecture firms to be both pleasing to the eyes of passersby and to provide a safe method of passage for animals whose habitats have been disrupted by highways.
This new bridge, designed by Balmori Associates in New York City and highlighted by Fast Company's design-centric site, is a simple, inexpensive option. Balmori proposes building "wooden bridges over highways, then covering them in native vegetation to create a sort of wildlife crosswalk," Suzanne LaBarre explained. "Each bridge would be so wide and the greenery so diverse, it'd appear like an extension of the forest, and animals, the thinking goes, would be less inclined to go galloping across roads helter skelter, resulting in fewer accidents (and a slimmer cleaning bill)."
Who will cover the cost of the bridges? We all should. Currently, we spend about $8 billion (!) every year cleaning up roadkill around the country's major highways. This, and other finalists from the  ARC International Wildlife Crossing Infrastructure Design Competition, could help to reduce those costs while making travel safer for both wildlife and humans.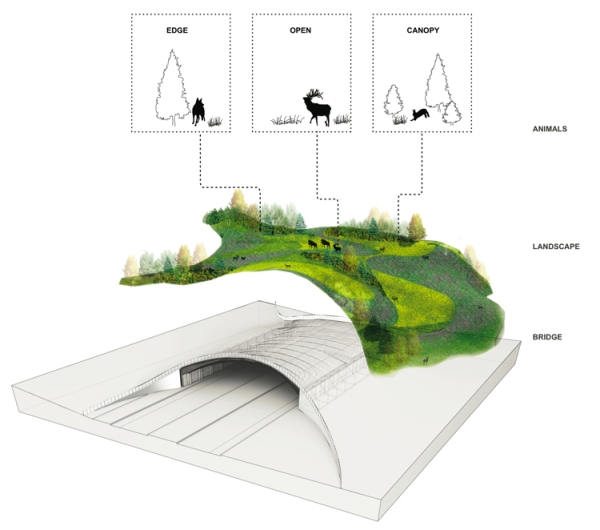 Via: Fast Co. Design.
Images: Balmori Associates.