Small Startup Keeps Cash Flowing to WikiLeaks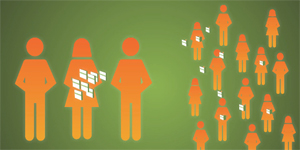 Julian Assange is in custody in London, but that hasn't killed the WikiLeaks story. WikiLeaks, which is responsible (most recently) for publishing thousands of previously classified U.S. embassy cables, has been hit with DDoS attacks and had payments cut off by PayPal, Visa and MasterCard. But the operation is still alive thanks to Flattr, a small startup created by Peter Sunde, best known as one of the masterminds behind Pirate Bay, a torrent site based out of Sweden that allows its millions of users to share copyrighted files.
Flattr bills itself as a social micropayments service and it works like this: Any site can incorporate the Flattr platform and it works much like the Facebook "Like" button you've grown accustomed to seeing on many online pages. Individuals can "Flattr" content by registering for an account that charges a predetermined monthly fee. It's designed to reward strong writing or quality content on the Internet. At the end of the month, a user's monthly fee is divided equally among all of the content they have selected over those days. The service is still in beta testing and is not yet open to any and everybody; it requires an invite. But WikiLeaks, which has used Flattr since August, received over 3,000 donations through the service for the release of its Afghanistan War Diary.
The total amount of money that WikiLeaks has received through Flattr has not yet been released. And Flattr, claiming client confidentiality, won't confirm whether or not it is bypassing PayPal and distributing payments transferred through banks and checks for WikiLeaks. But Sunde, whose service recently won a best new startup award, has tweeted that, should you want to, you can still "help them out."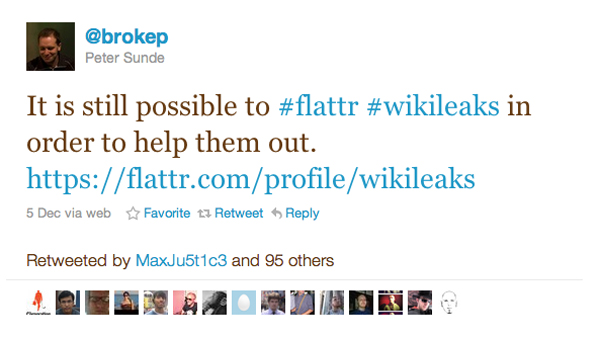 Via TechCrunch Europe.