Race to the Museum: Tucker Sedan, 1948
The Smithsonian's National Museum of American History has a large collection of automobiles -- 73 -- in its collection. But with the mission of collecting and preserving the entire heritage of the United States inside of one building on the National Mall, the museum's curators don't have the room required to display all of these machines. A new project allows you to vote for the two items you want to see rolled out of storage and showcased. Even if you don't vote or live near the museum, this unique week-long series of eight iconic artifacts will provide you with a quick history of the American automobile.
This post was originally published on the National Museum of American History's "O Say Can You See?" blog. It is republished here with permission. It was written by Roger White, the museum's associate curator in the division of work and industry.
See more posts about the Smithsonian.
---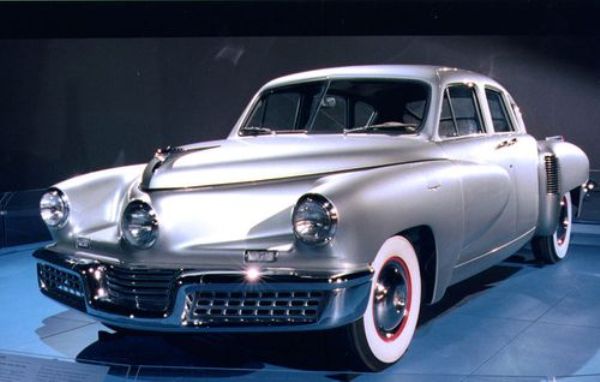 Race to the Museum: Tucker Sedan, 1948
"The First Completely New Car in Fifty Years" -- that's how Preston Tucker billed his audacious assault on Detroit in the late 1940s. He promised that his car would be fresh, advanced, and different, from its futuristic styling to its rear engine and rubber suspension. Tucker laid plans on a massive scale, hiring a design team and an executive staff, obtaining a huge assembly plant, and building a dealer network. For all of Tucker's brashness and avant-garde outlook, his most important innovation was his obsession with safety. He insisted on a padded dashboard, obstacle-free zone for the front passenger, pop-out windshield, and turning center headlight. But he stopped short of installing seat belts, thinking that they would hurt sales.
Production of tomorrow's car was cut short by a federal investigation of Tucker's business practices. Today the 46 remaining Tucker sedans, housed in museums and private collections, preserve the legacy of the man who tried to change America's driving habits. This Tucker, the 39th of 51 made, was forfeited in a drug arrest; in 1993, I had the pleasure of receiving it from the U. S. Marshals Service, which chose to transfer it to the National Museum of American History instead of selling it.
Roger White is Associate Curator in the Division of Work and Industry at the National Museum of American History.
More Race to the Museum posts: