Race to the Museum: Oldsmobile Curved-Dash Runabout, 1903
The Smithsonian's National Museum of American History has a large collection of automobiles -- 73 -- in its collection. But with the mission of collecting and preserving the entire heritage of the United States inside of one building on the National Mall, the museum's curators don't have the room required to display all of these machines. A new project allows you to vote for the two items you want to see rolled out of storage and showcased. Even if you don't vote or live near the museum, this unique week-long series of eight iconic artifacts will provide you with a quick history of the American automobile.
This post was originally published on the National Museum of American History's "O Say Can You See?" blog. It is republished here with permission. It was written by Roger White, the museum's associate curator in the division of work and industry.
See more posts about the Smithsonian.
---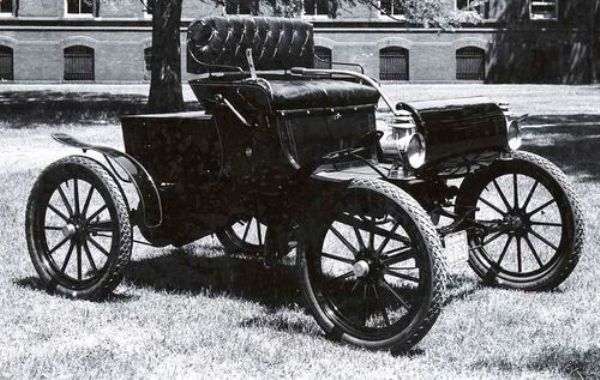 Race to the Museum: Oldsmobile Curved-Dash Runabout, 1903
Ransom Olds ushered in the twentieth century by starting volume production of automobiles, transforming them from expensive toys to affordable transportation for the middle class. His curved dash runabout of 1901-1905 was a runaway best seller. His factory was the first to build cars on an assembly line -- not a moving conveyor, as Henry Ford would install a decade later, but a parade of partially-completed cars swiveling from one work station to another on dollies.
Oldsmobile runabouts were produced by the thousands, and they endeared themselves to their owners. The make even became a household word; who hasn't heard the hit song "In My Merry Oldsmobile," with its slightly risqué lyrics about romantic combustion between two young people out for a spin? Almost overnight, driving became woven into American social customs and popular culture. And Olds introduced style to mass-produced cars; the graceful curved dash was supposed to resemble the front of a sleigh.
The Smithsonian's runabout was built in the same year that Henry Ford entered the car-making business, but Henry's Model T was five years in the future, and Oldsmobile ruled the road.
Roger White is Associate Curator in the Division of Work and Industry at the National Museum of American History.
More Race to the Museum posts: