Race to the Museum: Miller Race Car, 1929
The Smithsonian's National Museum of American History has a large collection of automobiles -- 73 -- in its collection. But with the mission of collecting and preserving the entire heritage of the United States inside of one building on the National Mall, the museum's curators don't have the room required to display all of these machines. A new project allows you to vote for the two items you want to see rolled out of storage and showcased. Even if you don't vote or live near the museum, this unique week-long series of eight iconic artifacts will provide you with a quick history of the American automobile.
This post was originally published on the National Museum of American History's "O Say Can You See?" blog. It is republished here with permission. It was written by Roger White, the museum's associate curator in the division of work and industry.
See more posts about the Smithsonian.
---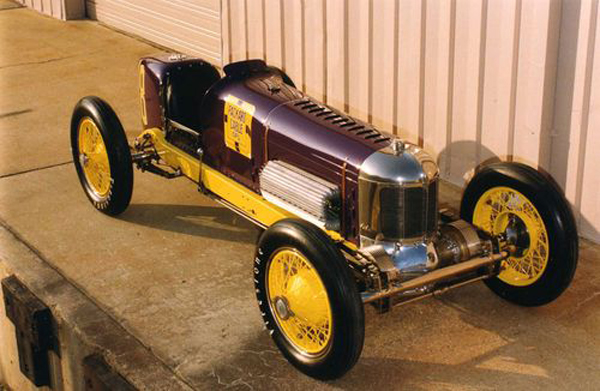 Race to the Museum: Miller Race Car, 1929
Ever dream of being the only kid on the block with super powers? Harry Miller's eight-cylinder, supercharged, front wheel drive race cars hit the tracks in the late 1920s, and the dozen demons were unlike anything the competition could offer. Light and fast, the Miller car in the collection of the National Museum of American History develops more than 230 horsepower. It was driven by Ralph Hepburn in the 1929 Indianapolis 500, and although he didn't win, the same car later set speed records of 143 miles per hour in Europe.
There were enough loopholes in American racing rules to permit such extravagant power, but that didn't last long. "The Detroit car makers threatened to pull out of the Indy 500 because it was too expensive to compete with the hand-crafted 'high tech' of the exotic Harry Miller cars," said National Museum of American History curator Bill Withuhn, who received the Miller car as a gift of Robert Rubin. "The track owner and Indy organizers changed the rules to outlaw superchargers and to change the size of engines permitted in Indy cars. End of Miller dominance; welcome back, Detroit sponsors." Rubin's gift includes a fund to keep the Miller race car in running order.
Roger White is Associate Curator in the Division of Work and Industry at the National Museum of American History.
More Race to the Museum posts: