Race to the Museum: Long Steam Tricycle, About 1880
The Smithsonian's National Museum of American History has a large collection of automobiles -- 73 -- in its collection. But with the mission of collecting and preserving the entire heritage of the United States inside of one building on the National Mall, the museum's curators don't have the room required to display all of these machines. A new project allows you to vote for the two items you want to see rolled out of storage and showcased. Even if you don't vote or live near the museum, this unique week-long series of eight iconic artifacts will provide you with a quick history of the American automobile.

This post was originally published on the National Museum of American History's "O Say Can You See?" blog. It is republished here with permission. It was written by Roger White, the museum's associate curator in the division of work and industry.

See more posts about the Smithsonian.
---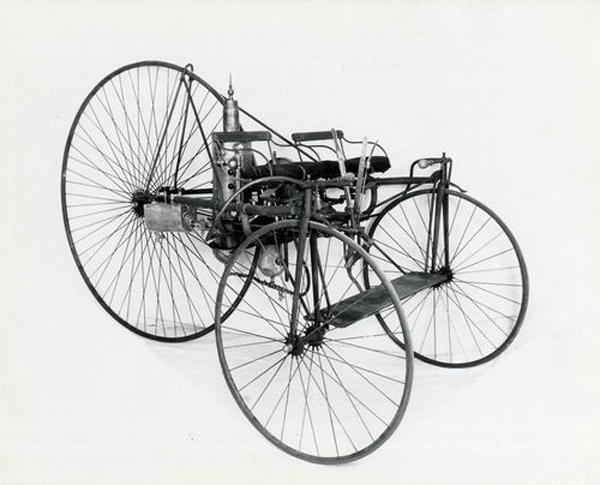 Race to the Museum: Long Steam Tricycle, About 1880

What's made of bicycle parts, weighs 350 pounds, and is self-propelled? Not your typical 1880s vehicle. Before George Long, a carpenter in Northfield, Massachusetts, built this one-of-a-kind experiment, he and other inventors built heavy, steam-powered wagons. So why switch to thin, spidery body materials? Long borrowed technologies developed for the high-wheel bicycle craze, which was just taking off. Bicycles were lightweight; for Long's three-wheel wonder, a tubular steel frame and spoke wheels meant a better power-to-weight ratio and easier travel on rough dirt roads. Adult-size tricycles were safer, more comfortable, and easier to mount than high-wheel bicycles, so Long's vehicle pointed the way toward practical, powered road transportation.
Unfortunately, Long's horse-owning neighbors didn't appreciate his meanderings in the strange contraption, and Long dismantled it. He received a patent in 1883, and although the steam tricycle never entered production, Long, who lived until 1952, was celebrated as an American automobile pioneer. John Bacon, a steam vehicle collector and historian, reassembled the Long steam tricycle and placed it in the Smithsonian. Today it is a treasured time machine from an era when Americans conceived of alternatives to trains and horses.
Roger White is Associate Curator in the Division of Work and Industry at the National Museum of American History.
More Race to the Museum posts: