Race to the Museum: GM Sunraycer Solar Car, 1987
The Smithsonian's National Museum of American History has a large collection of automobiles -- 73 -- in its collection. But with the mission of collecting and preserving the entire heritage of the United States inside of one building on the National Mall, the museum's curators don't have the room required to display all of these machines. A new project allows you to vote for the two items you want to see rolled out of storage and showcased. Even if you don't vote or live near the museum, this unique week-long series of eight iconic artifacts will provide you with a quick history of the American automobile.
This post was originally published on the National Museum of American History's "O Say Can You See?" blog. It is republished here with permission. It was written by Roger White, the museum's associate curator in the division of work and industry.
See more posts about the Smithsonian.
---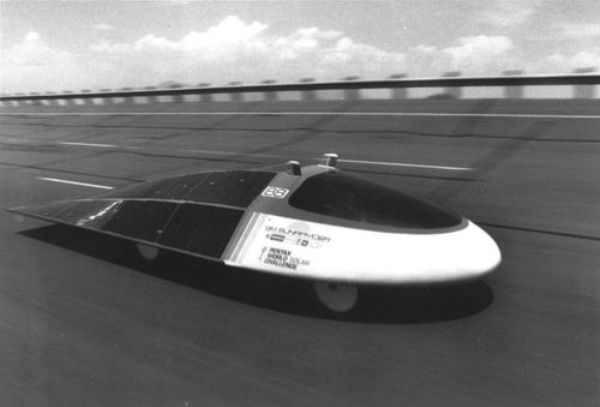 Race to the Museum: GM Sunraycer Solar Car, 1987
Does alternative energy have a future in personal transportation? Decades of proposals and experiments have made many people wonder whether we will ever drive to the office, shopping center, or Disney World without filling up at the pump. Whether we notice it or not, designers of alternative energy vehicles are constantly rolling out new types of experimental vehicles that push the envelope a bit further.
Take the Sunraycer, for example. In 1987, General Motors accepted the challenge of entering a 1,864-mile solar car race across Australia. GM partner AeroVironment, founded by human- and solar-powered aircraft innovator Paul MacCready, designed and assembled an amazingly lightweight, aerodynamic solar-electric vehicle with a body made of Kevlar and Nomex, satellite-type solar cells, silver-zinc Hughes batteries, and a GM Magnequench motor. The tubular aluminum body frame weighs an incredible 14 pounds, and total weight is just 390 pounds. Sunraycer could achieve speeds up to 70 miles per hour and won the race hands-down.
Will motorists ever drive cars like the Sunraycer? Maybe. But more importantly, Sunraycer's power control technologies paved the way for other types of electric vehicles that are closer to becoming everyday transportation.
Roger White is Associate Curator in the Division of Work and Industry at the National Museum of American History.
More Race to the Museum posts: